We thought of this article because we have been asked questions about natural hair care by many of our readers. We are sure that many of us would have met people with hair worries.
[wp_ad_camp_1]
Most people spend a lot of time, as well as money by trying out different styles on their hair. What most people do not realize is that styling hair too often can actually damage the hair, by making it dry and coarse. Using heat styling implements, hot dryers, exposure to atmospheric pollution and sun's UV rays are some of the common reasons for bad hair. Using hair products which are made of harsh chemicals is also considered to be one of the top reasons for having dry hair.
Many of the commercial products available for dry hair are laden with chemicals which can cause more harm to the hair. Hence, it would be best to use homemade hair packs. EHC brings you some of the recipes with which you can make hair packs for treating dry hair.
[wp_ad_camp_4]
Hair Pack Powder
Goose berry (Amla) powder – 2 teaspoons. Hibiscus Flower powder – 2 teaspoons. Green gram powder – 2 teaspoons. Holy basil powder – 2 teaspoons. Neem powder – 2 teaspoons. Dry these herbs and powder them. Mix all these powder with a little amount of curd to make a paste which should be not too thick and not too thin. Apply this paste all over your hair and scalp. Leave it for 30 minutes to one hour and wash it off with mild shampoo. This hair pack should be followed in alternate days to stop hair fall in one month.
Pack for Split Ends
Remove the skin and seeds of a ripe papaya and blend it in the mixer. Add 1 cup of yogurt to it and mix really well. Apply thoroughly through scalp and hair. Wash after 30 minutes.
Henna Hair Pack
Soak pure herbal henna powder overnight in an iron container using freshly brewed and strained black tea instead of plain water. Add to this a tablespoon of olive/coconut/jojoba oil and the juice of half a lemon. Next morning, you have an option to mix in either ½ cup of fresh yoghurt or 1 beaten egg to it just before applying. You may apply this mixture covering all your hair and leave it on for ½ hour to 6 hours, depending on your purpose. The longer you leave it on, the deeper will be the mehendi's coloring effect. However, if you just need to condition your hair, half an hour is fine. Weekly conditioning with this pack works wonders on hair texture, growth, volume and shine.
Aloe Vera Pack
Aloe Vera is a great herbal product that treats dryness of hair completely. The extracts of the aloe plants contain elements that moisturize the hair follicles and make your hair lustrous. You can take a glass of aloe juice every morning to keep the hair and also your internal system healthy.
Pack for Weak Hair Roots
Soak the petals of two hibiscus flowers and 6-7 petals of the same plant overnight in a cup of water. Puree to a paste with ¼ cup extra virgin olive oil and 2 tablespoon raw milk. Apply to roots and along hair shaft and leave on for 20 minutes before rinsing with cold water.
Mask for Hair Growth
Grind black pepper and lemon seeds in equal amounts. Keep aside. Boil 3 tablespoons of dried rosemary in 2 cups water till the water reduces to less than half. Cool and strain. Dissolve the ground pepper plus lemon seeds powder in this solution to make a fine paste. Add a cup of curds to it and mix well. Apply on your hair and scalp. Wash after 15 minutes with cold water or sooner if the pepper starts to sting.
Coconut Pack
Rich in proteins, fatty acids, vitamin B and C, zinc, potassium and iron, coconut will definitely prove to be one of the best treatments for dry hair ever. Take a jar of extra virgin coconut oil and simply apply it on your hair whenever you know that your hair is going through a lot of stress. Massage the oil into your scalp, pack in a warm towel and leave on for 15 to 20 minutes. Rinse, wash and condition as usual.
Hot Oiling and Steam
Hot oil hair treatment is one of the best treatments. Take ½ cup of coconut or olive oil in a container and add 4 crushed almonds to it. Place the container on the stove and heat it on a medium flame. Take off the container from the flame after a few minutes. Allow it to cool a little, however, make sure that it is still a little warm. Pour the warm oil into your scalp and gently massage your hair with your fingertips. You must see to it that the entire scalp, roots as well as tips are coated with the oil. Once this is done, take a dry towel and submerge it in hot water. Squeeze off the excess water and wrap it on your head. When the towel cools down, repeat the procedure for 2-3 times or for half an hour. After the set time, you can shampoo as well as condition your hair as usual.
Amla & Neem Pack
If you suffer from boils on your scalp, you need to use this hair pack. It has the goodness of amla as well as the antibacterial properties of neem which will not only get rid of the boils but also fights dandruff. Make a paste of fresh neem leaves with overnight soaked amla powder. Use this as a pack on hair and scalp and wash off after 20 minutes.
Shikakai & Amla Hair Pack
Soak Shikakai and Amla powder in 1:2 ratios in Luke warm water. Apply this mixture on hair and scalp for at least 20 minutes the next day before rinsing. Shikakai cleans the roots of the hair and leaves it dirt free. It also fights dandruff.
[wp_ad_camp_2]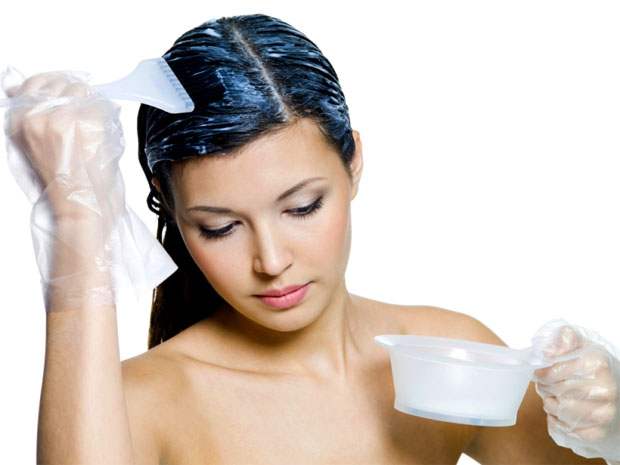 Milk & Honey Hydrating Mask
Mix a teaspoon of honey into a glass of raw whole milk. Then massage it into the hair from root to tip. Shampoo hair with lukewarm water after 25 minutes.
Gram Flour Protein Hair Pack
Soak 3 tablespoons of black gram (black urad) overnight and grind to paste next day. Alternatively, use black gram flour. Mix to it one beaten egg, 1 tablespoon of lemon juice, 1 cup full fat yoghurt. Apply to hair and leave on for half an hour before washing off.
[wp_ad_camp_3]
Image courtesy: prosvadby.com , becomegorgeous.com