"I'll never tire of watching each other's lips behind closed eyes"- A Lover's Haiku.
Beauty, sensuality, style – Lips are said to be the second point of attraction on any woman's face after eyes. Lips do get older along with you and your skin. There are natural ways by which you can make your lips look younger, bigger and red.
[wp_ad_camp_1]
A gorgeous face and well-maintained figure may not grab attention and complements if the lips are looking dark and sore. Dark and unhealthy lips cast a poor impression on others and are also a blow to one's self-confidence. However, one can always have the option to transform one's cracked and darkened lips into red and healthy looking lips by following certain home remedies and ensuring the intake of a nutritious and healthy diet.
Read on and find the best home remedies for having natural red lips.
[wp_ad_camp_4]
Tips for Natural Red Lips 
1. Take a thin slice of lemon and sprinkle a little sugar on it, then rub it on your lips daily. Sugar is best for exfoliating dead skin cells and lemon is a natural bleaching agent and help to lighten sun tanned dark lip.
2. Mix some honey, sugar and a few drops of olive oil and apply to the lips, massage for 10 minutes.
3. Milk: Lactic acid is one of the most efficient ingredients to use in order to lighten the skin. Natural remedies have the chief advantage of not spoiling the flawless condition of your skin. Therefore, drink either more milk than usually or apply a few drops of it on a cotton pad and place it on the lips. Besides the whitening effect, milk can also contribute to the elimination of the dead skin cells which cause dark lips.
4. Rose petals can also be used to get back the pink colors of your lips. Take some rose petals and immerse it in milk for some time. Then make a paste of the petals and add a few drops of honey and glycerin to it. Now take this paste and dab it on your lips for fifteen minutes. Finally rub off your lips gently with milk. When you follow this treatment daily you can witness amazing results.
5. Lemon Juice: The juice of this extremely healthy fruit is used as one of the most popular skin bleachers. Thanks to the acid content that can remove all dead cells and free agents from the surface of the lips. In order to combine bleaching with moisturizing, it is wise to create a soothing paste. Mix equal parts of honey, yogurt and lemon juice, make it a fine paste. Apply this on your lips and leave it on for at least one hour. Finally scrub rather than wipe off the paste from your lips.
6. Make a mixture of lemon juice and glycerin and apply this to your lips. Regular application will show you best results within few days.
7. You can also make a natural lip scrub by using almond oil, honey and sugar. This scrub not only removes dead skin cells but also help a lot to give you smooth and glowing lips.
8. Almond Oil: One of the widely used methods to get rid of dark stains that tint the lips is almond oil. In the local store you'll find various lip glosses and balms that contain this ingredient. On the other hand, you can also create your own lip gloss that should contain this natural oil.
9. Take a slice of beetroot and rub it on your lips before going to sleep. You can also apply a mixture of beetroot juice and glycerin on your lips. Regular application will show you excellent result. Also try to pat the lips for a few minutes with cotton soaked in carrot juice or beetroot juice. This way you can easily add some color on your lips as well as nourish the lips. For better result you can add a pinch of saffron with the juice. Saffron will help in keeping your dry lips well moisturized.
10. Next time while eating an orange, keep the orange peel as it can help a lot in the treating dark and dull lips. Use the orange peel to cleanse the skin of your lips and to lighten the dark skin tone of your lips.
11. Seeds of pomegranate can also be used in order to lighten the dark color of your lips and lending it a lovely pink color. Take the seeds of pomegranate in crushed form and mix it with the milk cream and apply it on your lips. Soon your lips will become redder and fuller. You can use this solution without worrying about side effects.
12. Apply tomato paste on your lips. It helps a lot to give you glowing soft and pink lips.
13. Cucumber juice when applied on lips also helps a lot in reducing the darkness of lips. Take a slice of cucumber and scrip your lips with it whenever you have some time. Just five minutes of scrubbing daily with cucumber juice will lighten the color of your lips making it pink.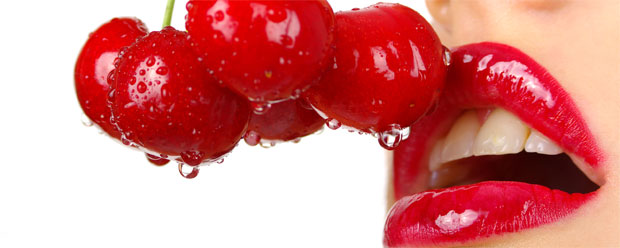 Some Precautions
1. Never exfoliate cracked lips. First cure them by using a good natural lip balm, then use a good lip scrub for exfoliation. After exfoliation never forget to apply a good lip balm to keep them soft.
2. Avoid smoking.
3. Before going to sleep remove lip stick and rub your lips with ice cubes for a few minutes.
4. Before going to sleep, apply almond oil, butter or simply slightly warm ghee on your lips. Ghee acts as a natural balm.
5. Avoid using lipstick for too long time. Using too much of lipstick or its frequent use should also be avoided.
6. Increase the intake of fresh fruits and vegetables.
7. One major reason behind the dark color of your lips is too much consumption of tea, coffee and other beverages. So, you need to cut down on your drinking habit.
8. Dehydration is not good for your lips and so you must try to have lot of water. You must drink at least ten glasses of water daily to flush out all the toxic from your body and keep it hydrated.
To conclude, by following these above mentioned simple and easy tips you can make your lips soft and pink. So, put these tips in action and see how your lips start blooming like a pink rose. As a poet confessed, "My eyes dance along the soft curves of your lips as you talk. How I won't be hypnotized at such a luscious red beauty."
[wp_ad_camp_3]
Image courtesy: hdw.datawallpaper.com , meh.ro