Dandruff is a common scalp disorder that affects millions of people across the world. This scalp condition is caused by a fungus known as Malassezia.
[wp_ad_camp_1]
The person who suffers from this itchy scalp problem gets dusky and white flakes on the hair. Dandruff is neither contagious nor dangerous, but it certainly makes you embarrassed when you move in the social circles.
Since ancient times, coconut oil has been used to treat various types of hair as well as scalp problems including dandruff. So what are the properties in coconut oil which makes it so powerful in treating the dandruff problem? Let's find out.
Antifungal
Coconut oil is antifungal in nature, so its application can treat the dandruff problem by killing the fungus that causes it.
[wp_ad_camp_4]
A Great Moisturizer
Coconut oil works as a good moisturizer. Its use moisturizes the scalp well and removes the dryness. Dry scalp is one of the main causes of dandruff.
A Good Conditioner
Apart from moisturizing the scalp it also works as a good conditioner, thus making the hair and scalp softer, which in turn keeps dandruff at bay.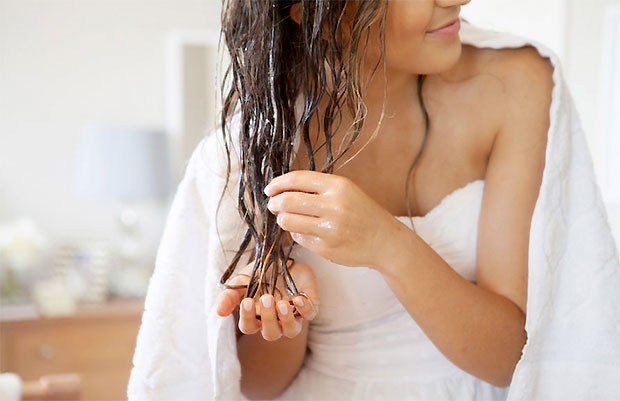 [wp_ad_camp_2]
Easily Penetrates into the Scalp
Coconut oil contains lauric, caprylic and capric acid (medium chain fatty acids), which help it to penetrate deep into the hair shaft and scalp. It helps the coconut oil to kill the dandruff-causing fungus and check its recurrence.
Keeps the hair and Scalp Healthy
Healthy scalp fights well with the fungus that causes dandruff and at the same time stops recurrence. Coconut oil with its various nutritional properties keeps both the scalp as well as the hair healthy. Apart from that it also gives a good aroma to the hair and scalp.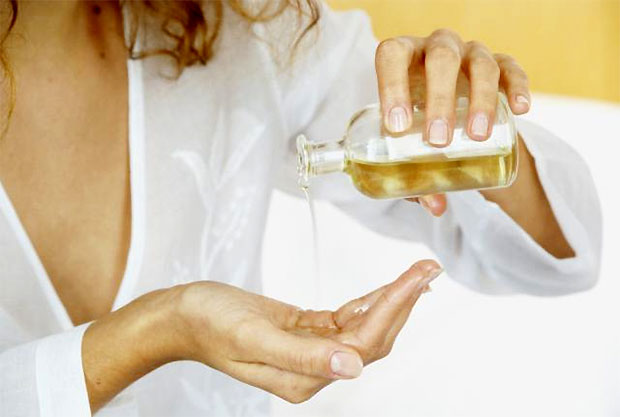 Heals the Scalp
Its skin healing properties offer a soothing effect to the irritated and itchy scalp that is caused due to dandruff and continuous scratching of the scalp.
There are various ways in which you can use coconut oil to treat dandruff. You can prepare various home remedies by using coconut oil along with other ingredients to treat this scalp condition well.
The first & easiest way is direct application of coconut oil to the scalp. Just apply warm coconut oil to your scalp & hair starting from the root to the end. Massage your hair and scalp with the coconut oil at least for 5 minutes. Put a shower cap on and leave for overnight. Next morning clean your hair with your regular shampoo. Follow this remedy regularly if you are facing this dandruff issue continuously.
Note: Prefer to use organic coconut oil for preparing the remedies for dandruff as it contains a good amount of antifungal and antimicrobial properties.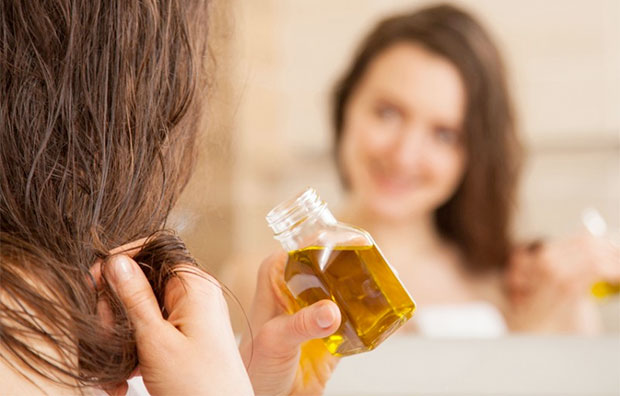 Camphor – Coconut Oil
The use of camphor can give you relief from the itching sensation and skin irritation caused due to dandruff. Mix ½ cup coconut oil & 1 tsp of camphor & store it in an air-tight container. For the treatment of dandruff, take this camphor-mixed coconut oil in your hand and apply it on your hair and scalp before going to bed. Massage for 10 minutes. Follow this remedy at least for 2 weeks every night to get rid of dandruff. If your dandruff gets controlled, then you can apply this mixed oil every alternate night.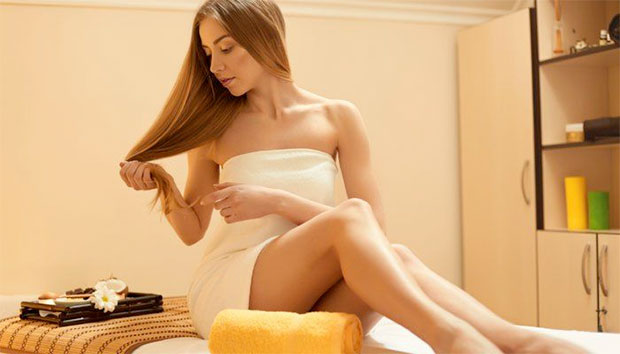 Coconut Oil Scrub
Also coconut oil, honey, olive oil, lemon and yogurt scrub can be prepared as an effective solution for dandruff. The healing properties of honey soothe the irritated scalp. It also has wound healing and anti-inflammatory properties, and the most important thing is that honey is anti-bacterial and anti-fungal in nature. The application of olive oil on the scalp removes the dryness of the scalp, which causes dandruff. It also hydrates the skin well, thus reduces the dandruff issue considerably. Yogurt too is antibacterial in nature, so its use can help you get rid of dandruff.
This scrub can be prepared by mixing 2 tablespoon coconut oil, 2 tablespoon olive oil, 3 tablespoon yogurt, 2 tablespoon honey & 1 teaspoon lemon into a medium consistency paste. Apply the paste to your scalp and hair with the help of your fingertips. Massage for 10 minutes to open up the scalp pores and promote blood circulation to the scalp. Leave the paste on your hair for 40 to 45 minutes. Rinse your hair with a mild shampoo to clean it properly (you can shampoo your hair twice if your hair does not get cleaned in the first cleaning process). Leave your hair to dry naturally. Take 4 to 5 drops of coconut oil in your palm and rub the palms so that the coconut oil will become warm. Now, apply the oil on your scalp and hair. Repeat this process to cover the entire scalp. Use this remedy once in a week to get the desired results against dandruff.
Thus, this commonly used element of your kitchen can be a great healer for your scalp & hair. It not only heals the worrisome problem of dandruff, but also improves the strength & texture of your hair.
[wp_ad_camp_3]
Image courtesy: hola.com , joe.co.uk , bluekarmaresort.com , f.tqn.com ,