Yogurt or curds is a great digestive aid and cooling drink to have, but it can also be a great way to enhance the appearance of your hair and skin.
[wp_ad_camp_1]
Though eating it will benefit your body internally, applying it directly on your face and scalp will have added benefits. You may avoid expensive salon treatments and give yourself a hair and skin makeover at home using yogurt.
Yogurt contains zinc and lactic acid that are responsible for promoting healthy skin. A gentle massage with yogurt into the skin is sure to help remove dead skin cells, smooth out the fine lines, tighten pores, hydrate dry patches, give a much-required shine and glow. When buying yogurt for skin, do not forget to check the label for unsweetened or plain. Various yogurt flavors are available in the market and these can cause irritations, rashes and aggravate acne if present. In addition, yogurt with high levels of fat and live cultures promotes the best result for rejuvenated skin. Let's look at the various benefits of yogurt and how it can be used for hair and skin care.
[wp_ad_camp_4]
Reduces tanning: A plain yogurt pack also treats tanning. Whether the tanning is mild or severe, you can apply a base of plain yogurt on your face and neck every day to keep your skin clear. Yogurt is used as a sun tan cream. Make a paste of 4 tea spoon of green gram powder by adding 20 ml of yogurt. Apply it on your expose area like face and neck. Leave it for half an hour, and wash off it with warm water.
Bleach: Yogurt has excellent bleaching property. Yogurt mixed with lemon and orange peel makes an effective face pack for removing tan.
Exfoliator: When mixed with oatmeal powder and egg white, yogurt becomes a great exfoliator. Scrub your face with a mixture of these natural ingredients to get remove dead skin cells.
Moisturizer & skin brightener
Add natural glow to the skin by making a homemade face pack using yogurt, honey and orange peel. Grind the ingredients together, apply the pack on the face and leave it on for 15 minutes before washing to reveal a fresher and brighter complexion.
[wp_ad_camp_2]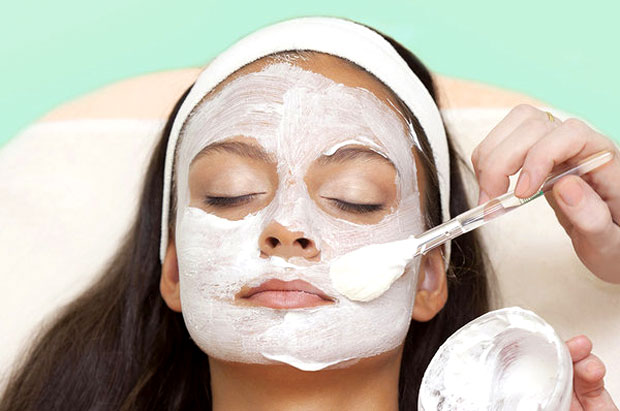 Natural Scrub
Make a natural scrub at home with 2 tablespoons of yogurt and 1 tablespoon of oats. Exfoliate the skin by gently massaging the scrub in circular motions.
Treatment of acne
You may make a paste of yogurt with some turmeric powder, and sandalwood powder. Massage the paste on the skin and rinse off with cold water after 15 minutes.
Anti-ageing
To prevent wrinkles and keep the skin youthful and glowing, make a face pack using a tablespoon olive oil and 3 tablespoons of yogurt. Apply the mixture on the face for 30 minutes and repeat at least 3 times a week.
Treats sunburn
Yogurt contains zinc that helps provide relief from the burning and itching sensation that sunburns provide. Make a mixture of yogurt by adding some chamomile essential oil. Rub the paste over the sunburn and let it sit for 15 minutes before rinsing it off.
Natural conditioner
The moisturizing properties of yogurt are not restricted to skin care. Yogurt acts as a great natural conditioner for dry and damaged hair and helps gain and retain lost moisture.
Blend half cup of yogurt into a smooth paste and coat the hair with it. Wrap the hair in a towel and leave it on for 20 minutes. Wash with your regular shampoo and the result is enhanced moisturizing and conditioning effect on your hair.
[wp_ad_camp_3]
Image courtesy: blogspot.com , beautylish.com ,