[sws_yellow_box box_size="300″]Contents: What is ultrasound?, How does ultrasound work?, What does an ultrasound scan involve?, What is an ultrasound test used for?, What is a Doppler ultrasound scan and duplex ultrasound? The Bad Side, and Is Ultrasound During Pregnancy Safe?.[/sws_yellow_box]
[wp_ad_camp_1]
An ultrasound scan is a painless test that uses sound waves to create images of organs and structures inside your body. It is a very commonly used test. As it uses sound waves and not radiation, it is thought to be harmless.  Doppler and duplex scans are used to visualise blood or fluids flowing through the body.
What is ultrasound?
Ultrasound is a high-frequency sound that you cannot hear, but it can be emitted and detected by special machines.
[wp_ad_camp_4]
How does ultrasound work?
Ultrasound travels freely through fluid and soft tissues. However, ultrasound is reflected back (it bounces back as 'echoes') when it hits a more solid (dense) surface. For example, the ultrasound will travel freely though blood in a heart chamber. But, when it hits a solid valve, a lot of the ultrasound echoes back. Another example is that when ultrasound travels though bile in a gallbladder it will echo back strongly if it hits a solid gallstone.
So, as ultrasound 'hits' different structures of different density in the body, it sends back echoes of varying strength.
What does an ultrasound scan involve?
You lie on a couch and an operator places a probe on your skin over the part of your body to be examined. The probe is a bit like a very thick blunt pen. Lubricating jelly is put on your skin so that the probe makes good contact with your body. The probe is connected by a wire to the ultrasound machine, which is linked to a monitor. Pulses of ultrasound are sent from the probe through the skin into your body. The ultrasound waves then echo ('bounce back') from the various structures in the body.
The echoes are detected by the probe and are sent down the wire to the ultrasound machine. They are displayed as a picture on the monitor. The picture is constantly updated so the scan can show movement as well as structure. For example, the valves of a heart opening and closing during a scan of the heart. The operator moves the probe around over the surface of the skin to get views from different angles.
The scan is painless and takes about 15-45 minutes, depending on which parts of the body are being examined. A record of the results of the test can be made as still pictures or as a video recording.
[wp_ad_camp_2]

What is an ultrasound test used for?
It is used in many situations. The way the ultrasound bounces back from different tissues can help to determine the size, shape and consistency of organs, structures and abnormalities. So, it can:
Help to monitor the growth of an unborn child, and check for abnormalities. An ultrasound scan is routine for pregnant women.
Detect abnormalities of heart structures such as the heart valves. (An ultrasound scan of the heart is called an echocardiogram.)
Help to diagnose problems of the liver, gallbladder (such as gallstones), pancreas, thyroid gland, lymph nodes, ovaries, testes, kidneys, bladder and breast. For example, it can help to determine if an abnormal lump in one of these organs is a solid tumour or a fluid-filled cyst.
Detect abnormal widening of blood vessels (aneurysms).
Some specialist ultrasound techniques
In some situations, a clearer picture can be obtained from a probe that is within the body. So a small probe, still attached by a wire to the ultrasound machine, can be:
Swallowed into the gullet. This is sometimes used to get clearer images of the heart, which lies just in front of the gullet.
Placed in the vagina or rectum to get clearer images of the pelvic and reproductive organs.
Used to help guide a surgeon during an operation, in order to look deeper into structures.
The above are not exhaustive lists, and ultrasound scanning has various other uses.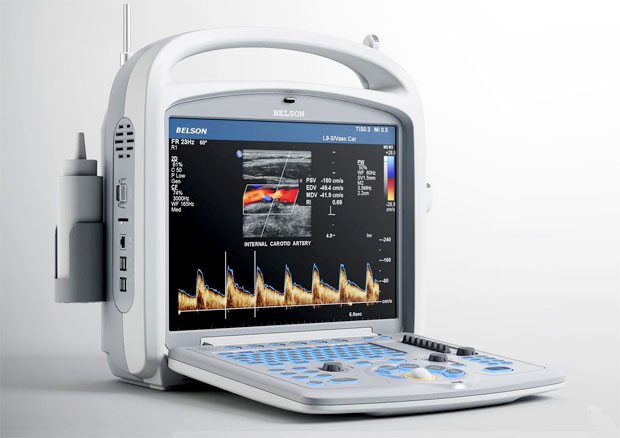 What is a Doppler ultrasound scan?
A Doppler ultrasound records sound waves reflecting off moving objects, such as blood cells, to measure their speed and other aspects of how they flow through the body.
How does Doppler ultrasound work?
If the structure is moving then the echo comes back at a slightly different frequency (called the Doppler effect). This difference in frequency can be used to measure the speed of movement. Blood moving in an artery or vein causes small echoes and these are used to measure the speed of movement of the blood cells. The sound waves may be amplified though speakers.  This allows the practitioner to listen to the flow of blood cells to determine whether or not there is normal flow (for example, listening to the flow of blood through the heart of a baby during a routine antenatal check-up, or damaged veins or arteries following an injury). The sound waves may also be converted to colour pictures on a screen so that flow can be seen through the arteries or veins (colour Doppler), or on a graph showing changes in velocity.
What is Doppler ultrasound used for:
To listen to the heartbeat of an unborn baby (fetus) during pregnancy.
To examine blood flow in arteries or veins in your arms or legs to see if you might have:

Deep vein thrombosis.
Peripheral vascular disease.
Injury to your veins or arteries following trauma.
What does a Doppler ultrasound involve?
During pregnancy, the Doppler ultrasound is very similar to an ultrasound scan. A probe covered with gel is put on your skin over the pregnant womb (uterus). This is connected to a speaker and the practitioner simply listens to the flow of blood through the fetus's heart.
During a Doppler ultrasound of the arms and legs, blood pressure cuffs are placed along the thigh, calf, or ankle, or to different points along the arm. A paste is applied to the skin over the arteries being examined. Images are created as the probe is moved over each area.
[wp_ad_camp_3]