Rice is the most popular edible grain in the planet and it has natural ingredients that help result in a fairer, whiter and glowing skin. It is rich in ferulic acid and allantoin.
[wp_ad_camp_1]
Ferulic acid is a wonderful anti-oxidant. It works as a sun protection agent. Also, Allantoin is an anti-inflammatory agent, that helps protect the skin from sun burns. Rice water helps in healing skin. When it's used on skin, these agents help to protect tyrosinase and helps in fairer skins.
Soaking of rice lets the nutrients was off from the grain and hence it gets homogenized with water. And it is easy to make – simply boil some rice, then pour the excess water in a lidded glass jar and store in the refrigerator. Once cooled, it will be a potent ingredient for enhancing your skin and hair health.
[wp_ad_camp_4]
The effects of rice water are further enhanced if it is fermented. It is rich in antioxidants, minerals, B vitamins, vitamin E, and traces of pitera, a substance produced during the fermentation process. 'Pitera' has grown in popularity recently, and is touted as the anti-aging elixir due to its ability to promote cell regeneration, and help skin stay young and beautiful. Fermented rice water can be used as a face cleanser, skin toner as well as a hair rinse. The nutrients in the fermented rice water are believed to shrink pores, reduce fine lines, and tighten and brighten your skin.
Fermentation lowers the pH of the liquid, and this is similar to our hair's pH, which is also on the lower side (slightly acidic). So, this slightly acidic pH plus the added nutrients through the fermentation process help restore hair's pH balance, stimulate blood flow to the scalp, nourish hair follicles to promote healthy hair growth, and improve overall condition of hair.
To enjoy these benefits of rice water, all you have to do is just collect the water that you use to rinse your rice. And if you don't want to cook the rice then just grind the left over rice to make a body scrub or face mask.
To make rice water, you will need 1/2 cup uncooked rice (brown, white long grain, white short grain, jasmine, or whatever you have) and 2 cups water.
First rinse the rice with about a cup of water to remove any dirt or impurities. Then, place 1/2 cup of uncooked rice in a bowl and cover with water. Let the rice soak for about an hour or so. Swirl it around and lightly knead it until the water turns cloudy. This will help the vitamins and minerals seep into the water, creating a nourishing rinse for your hair and skin. Now strain out the rice water into a clean bowl. Your rice water is ready to use.
Once you have collected your rice water, leave it at room temperature for a day or until it turns slightly sour, implying that it has started to ferment. It can take anywhere from 24 to 48 hours, depending on how warm it is. So, warmer the room temperature faster the fermentation process. Store it in refrigerator and it will last 4 to 5 days. Remember to shake the refrigerated rice water container before using it.
[wp_ad_camp_2]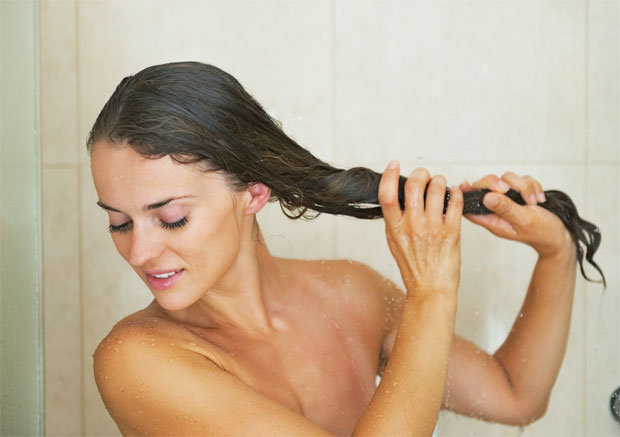 Hair & Skin Health
Use rice water as part of your face and body cleanser. (eg., rice water, lemon juice, and lavender essential oil mixed together to make a face or body wash. It is a great substitute for your regular toner and helps in reducing the size of the pores on your skin.
Rinsing your hair with rice water bring shine to your hair and helps to keep it strong and healthy. You can also use it as a part of moisturizing face mask.
Rice water, plain or fermented, makes a great conditioner for the hair. For extra nourishment, add few drops of essential oils such as rosemary, lavender or tea tree. After shampooing, pour the rice water on your hair. Gently massage your scalp and hair and leave it on for 4 to 5 minutes. Then rinse your hair thoroughly with plain water.
Using rice water to cleanse your face is as simple as dabbing a bit onto your face and gently massaging it into your skin for couple of minutes. With regular use you will notice your skin feeling soft, tight, and radiant. You can also use rice water as a toner. Use like any other toner – apply to face after cleansing to minimize the appearance of pores and tighten skin.
Wash your face, then soak a cotton pad in the rice water and apply it all over, as you would do with a toner. Rice is rich in a complex of B vitamins called 'inositol' that helps promote cell growth, slows down the aging process and stimulates blood flow – the perfect recipe to tighten pores and bring a glow to the face. Besides this, rice water also has moisturising, antioxidant and UV-absorbing properties, along with an ability to bind to naturally occurring copper in the skin, thereby preventing the formation of melanin formation (hyper-pigmentation) and age spots.
After shampooing, work in some rice water into your hair. Leave it on for a few minutes, then rinse well. Rice proteins strengthen the hair shaft and fill in the cracks and you get smooth, shiny hair.
The soothing nature of rice water makes it an effective remedy for rashes and other irritating or painful skin conditions. In a dermatological study at Brussels University, patients with atopic dermatitis (chronic inflammation of the skin) saw a 20% improvement after taking 15-minute baths filled with rice water twice a day.
Drinking rice water is also extremely beneficial for overall health. It contains 8 essential amino acids, which form the building blocks for tissue and muscle regeneration. Rice water also provides energy due to high concentration of carbohydrates.
[wp_ad_camp_3]
Image courtesy: autostraddle.com , beautifulshoes.org