Oranges are enjoyed by many people and we all know of its nutrition value. Many of the doctors we know love them for an evening snack. But what about the peels?
[wp_ad_camp_1]
We throw out orange peels once we are done eating or juicing an orange. But did you know that orange peels are a powerhouse of nutrients and anti-oxidants? The orange peels even have higher vitamin C content than the fleshy inside. They are so versatile and can be used in so many ways. Let us look at the beneficial nutrients in orange peels and the benefits they offer for skin.
Vitamin C – Protects skin from free-radical damage and promotes healthy skin.
Calcium – Helps in renewal of worn out cells and prevents DNA damage. Heals dry flaky skin.
Potassium – Acts on dehydrated skin and helps preserve moisture in skin.
Magnesium – Prevents oxidative stress in skin and promotes glowing skin.
[wp_ad_camp_4]
Preparations Using Orange Peel
Remove the peels out from the oranges and retain them under the sun light, let them dry for two to three days in the sunlight and grind them in a blender and make fine powder. Store the prepared powder in a jar and use it in the face packs when ever you want.
Orange Peel Face Packs
Take the orange peel and clean it, add a tablespoon of yogurt to the orange peel and blend it to make a neat paste free from lumps. Wash the face with warm water and apply the above paste over the face evenly and scrub it. Hold on with the face pack for 20 minutes and rinse off with the cold water. This face pack works great to remove the dead skin that is clogged on.
A face pack that cleanses your skin and shine like a baby skin – Take the orange peel and grind it, add a tablespoon of honey and one tablespoon of lemon juice to it. Mix them neatly and apply it over the face and leave it for 20 minutes and rinse off the face with lukewarm water.
[wp_ad_camp_2]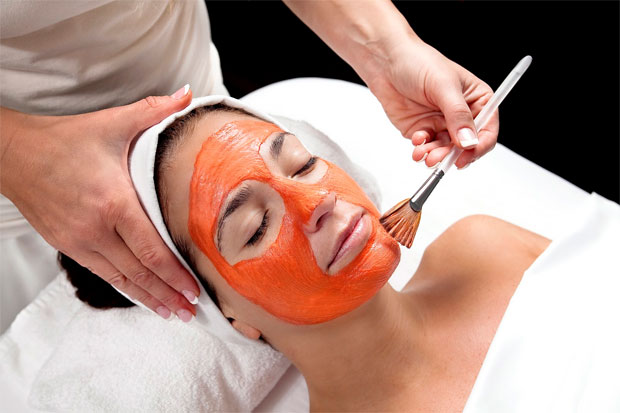 Make the orange peel and blend it to form a thin paste, add it turmeric powder and one tablespoon of honey. Mix them all and apply it to the face with the fingertips and leave it for 30 minutes. Wash the face with lukewarm water. It gives a fresh and stress-free skin and also removes the blackheads formed on the skin layer.
Pick the orange peel and blend it with two tablespoon of sandal powder and few drops of rose water. Apply the prepared mixture to the face and neck. Leave it for 30 minutes and wash the face with chill water. This face pack helps to get rid off the acne marks on the skin. It clears the face and nourishes the skin texture.
Mix powder in add white along a few drops of lemon juice then apply on face for 15 minutes. Apply once in a week for excess oily skin nature.
Take half a banana, mash it in a bowl with the help of a fork or spoon, and mix one tablespoon each of orange juice and honey in it. Apply this homemade beauty recipe for 15 minutes and then wash it off with lukewarm water.
Orange peel powder mixed in water applies over face good for acne. Applying orange peel powder mixed with rose water was good for giving instant glow to face. Orange peel powered and milk mixture good for instant face freshness. Simply rubbing fresh orange peel on your face helps lighten skin color. Moreover, it tightens the skin and improves the texture. Furthermore, these peels can be soaked in boiling water for a day and the resultant liquid can be used as a skin toner. You can also use it as a hair rinse to add shine to your hair and get rid of dandruff.
You can shrink enlarged pores and maintain clear, younger-looking skin by regularly applying fresh orange juice on your skin for a few minutes. It can heal issues like dark spots, pimples, and wrinkles as well.
Orange Peel Scrub
Take one cup dried orange peel, one tablespoon each of roasted black gram, two tablespoons semolina (rava), one dried rose petal and one teaspoon sandal powder. Grind all these and use this as scrub by mixing it with little warm water or rose milk.
Other Surprising Uses of Orange Peels
Cleaning kitchen sink using orange peels will help to increase the shines and it smells good. Same works with the wooden furniture.
It also works as a natural compost.
Making paste with water and sprayed will keep ants away.
Rubbing fresh orange peels in skin helps to prevent mosquito bite.
[wp_ad_camp_3]
Image courtesy: normarabago.com , blogspot.com