The colorful hibiscus flower is cultivated worldwide for both its aesthetic appeal and medicinal values. It is from the mallow family, a flower plant. Hibiscus grows in tropical warm regions of the world.
[wp_ad_camp_1]
Red Hibiscus has been used as a traditional medicine. We see hibiscus as a flower that is very common in India. However, hibiscus extracts have been used for ages in Ayurveda to cure many ailments.
A Sneak Peek Into its Health Benefits
Calms Hot Flashes – For women who are going through the tough hormonal period of menopause, hibiscus comes as a relief. It can help soothe hot flashes.
Cures Cold – Hibiscus is rich in vitamin C and thus it has the capacity to cure minor cold related infections like sore throat, cough and headache.
[wp_ad_camp_4]
Speeds Up Metabolism – Vitamin C has a very essential place in the digestive system and as hibiscus is rich in vitamin C, it helps to increase the rate of metabolism.
Stops Hair Fall – Hibiscus oil is extremely beneficial for the hair. Applying hibiscus oil to your hair ensures that your hair grows strong from the roots and stops breaking up easily.
Fights Cancer – Hibiscus is a flower that is rich in antioxidants. That is why having hibiscus tea or extracts is a naturally preventive measure against cancer.
Boosts Energy – As the antioxidants in hibiscus help to repair free radical damage, your energy levels naturally go up.
Slows Ageing – The antioxidants in hibiscus not only help to fight cancer but also slow down the ageing of your cells.
Cures Acne – Hibiscus has many natural anti-inflammatory substances and also vitamin C that can stop the growth of acne and even clear the marks left by it.
Maintains Fluid Balance – Having hibiscus flower extracts can help to maintain the fluid balance in your body.
Blood Pressure Maintenance – Hibiscus extract was able to maintain blood pressure levels already within a healthy range, but importantly, it did not alter blood potassium levels, nor did it affect salt-water balance.
Maintains Body Temperature – According to ancient African medicine, having hibiscus flower extracts regulates the body temperature. It helps to flush out excess body heat in summers.
Recipes using Hibiscus
[wp_ad_camp_2]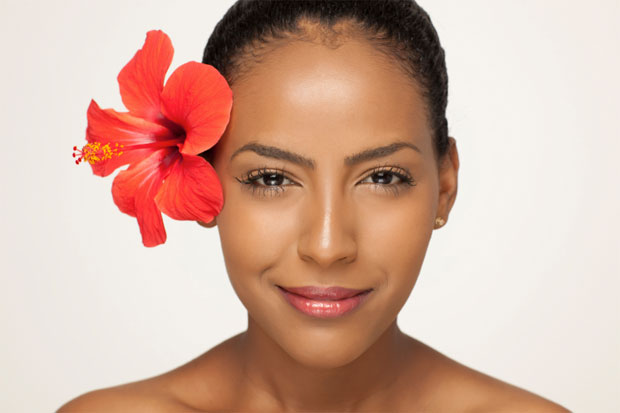 Hibiscus tea
Ingredients are 2 cups dried hibiscus flowers, rinsed; 8 cups water, divided; and 3/4 cup sugar.
In a large saucepan on high heat, bring hibiscus flowers, 4 cups of water, and sugar to a boil. Cover and simmer over low heat for 15 minutes. Remove from heat and allow it to come down to room temperature. Using a colander, strain out the hibiscus flowers. Add the remaining four cups of water. Stir and chill. Serve over ice.
Hibiscus ginger punch
Ingredients are 4 1/2 cups water, 1 cup dried hibiscus blossoms, 2-inch piece of ginger, thinly sliced, 1 cup sugar, 4 cups chilled ginger ale, two 750-mL bottles chilled champagne, sparkling white wine, or sparkling mineral water. Ice, garnishes of mint, lemon or lime slices.
Combine water, hibiscus blossoms, and ginger in a pot. Bring to a boil, then lower heat and simmer for 20 minutes. Turn off heat and stir in sugar. Let cool, strain, and chill. To make punch, stir hibiscus juice with ginger ale and champagne or mineral water. Garnish if desired and serve immediately.
Hibiscus water
Ingredients are 6 cups water, 2 cups dried hibiscus petals, 1 cinnamon stick, 1 pinch ground cloves, 1 pinch ground nutmeg, 1 pinch ground allspice, and 1-1/2 cups white sugar.
Place 6 cups of water in a large saucepan; bring to a boil. Stir in the hibiscus petals, cinnamon, cloves, nutmeg, and allspice. Reduce heat to medium-low, and gently simmer until the water has turned a deep red, 30 to 45 minutes.
After cooling, strain the warm liquid into a 1 gallon pitcher through a wire mesh strainer. Squeeze as much liquid from the petals as you can, then discard the petals. Stir in the white sugar until dissolved, then pour in enough cold water to fill the pitcher. Serve immediately or let stand overnight for best taste.
[wp_ad_camp_3]
Image courtesy: onsugar.com , hennablogspot.com