Since ancient times, tea has been touted to help with everything from headaches to depression. New studies continue to unravel the health benefits of tea.
[wp_ad_camp_1]
Also much has been written and said about the benefits of tea, and it is often difficult to separate fact from fiction. EHC tries to chase the scientifically recognized benefits of tea through this article.
It is popularly accepted that tea can prevent strokes, arthritis, tooth decay and even keep cancer at bay. It also helps shed weight. Scientists have shown that tea has high levels of compounds that battle the absorption of fat. Let's look at the kind of teas that aids slimming.
Peppermint tea
If you like peppermint tea then try and rotate that with a green tea drink as both speed up digestion and thus help you burn more calories. The peppermint leaves can be used to make a light, refreshing tea, which can be drunk either hot or chilled. To prepare the tea, take a tablespoon of fresh or dried leaves and add them to boiling water and let it steep for four to five minutes. Strain and add honey, if needed.
[wp_ad_camp_4]
Green tea
Research says the chemical EGCG found in green tea that speeds up the body's metabolism, is responsible for helping people lose the kilos – it can burn a whopping 70 calories a day. Green tea also raises the level of antioxidants. It is believed the antioxidant catechins in green tea boost metabolism and helps burn fat.
Rose tea
Rose tea is made by mixing fresh roses and the bud of the tea – has a major therapeutic effect on the human body. Apart from clearing toxins and beautifying the skin, rose tea contains vitamins A, B3, C, D and E and is known to act against infections. It also prevents constipation and helps one lose weight.
Star anise tea
Star anise, the fruit of a small evergreen tree (Illicium verum) native to China, can be used in the treatment of digestive troubles such an upset stomach, diarrhea, nausea etc. One may drink a tea made from it by steeping a whole pod in one cup of hot water for 10 minutes. Strain this and sweeten it if required. Sip on this slowly when an upset stomach occurs.
Oolong tea
Research reveals that oolong, a semi-fermented tea may have a stronger effect than even green tea. It promotes fat burning is said to help reduce cholesterol and the concentration of fat in the body. About two cups per day is recommended.
Hibiscus tea
Hibiscus contains flavonoids and minerals that can actually help reduce absorption of fats.
[wp_ad_camp_2]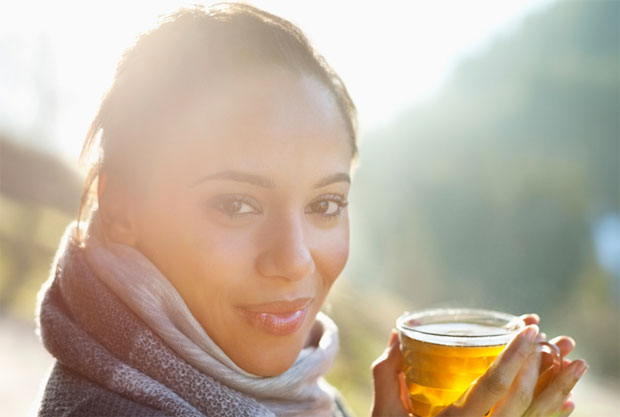 Green Tea Recipes for Weight Loss
Green Tea and Blue Berry Smoothie – This smoothie contains all the ingredients that boost up your metabolism and burn the fat off your waist.
Ingredients are green tea bags- 2, blueberries (fresh)- 2 cups, fat free vanilla yogurt- 12 ozs, almonds (dry, roasted, unsalted) – 2 tablespoons, flax seeds- 2 tablespoons, water- ¾ cups, ice cubes- 3.
Bring water to boil, pour over tea bags and steep for about 4 minutes. Squeeze and remove tea bags, chill the tea overnight. If using fresh blueberries you need to place it in freezer overnight. Place all the ingredients in blender, process until smooth and divide the smoothie in ice filled glasses.
Iced Green Tea – This is a simple low-calorie recipe that leaves you refreshing, chilled and it lowers the risk of Alzheimer's and diabetes.
Ingredients are green tea bags – 6 to 8, boiling water – 4 cups, cold water – 2 cups, artificial sweetener (non- caloric) – ½ cup.
Pour boiling water in a sauce pan over the tea bags and steep for about 5 minutes. Squeezing gently, remove tea bags from the water. Add sweetener to cold water and stir in 2 minutes until the sweetener dissolves. Let the tea come to room temperature and is now ready to serve.
Lemon Grass and Ginger Iced Tea – With its subtle flavor lemon grass and ginger iced tea is a perfect drink for every tea lover. With low caffeine levels and antioxidants present in this tea makes you feel energized all day long.
Ingredients are fresh lemon grass – 1 stalk, fresh ginger – 7 slices, green tea – 5 bags, sugar – ½ cup.
Rinse the lemon grass thoroughly, cut into 2 inch lengths and crush it with a large knife. Bring 2 cups of water, ginger, lemon grass and sugar to boil in a sauce pan. Take off the pan from heat, add green tea bags and steep the tea for about 5 minutes. Remove the tea bags if you think the flavor is strong and let the tea cool for about 30 minutes. Pour the tea into a pitcher through a fine strainer. Cover the tea and keep it chilled until cold for at least 2 hours and divide the tea into four different ice filled glasses.
Citrus Mint Iced Tea – Toss some mint leaves, orange slices and green tea bags into a boiling teapot for a delicious homemade tea. Serve over ice and garnish the glasses with orange or lime slices.
Green Ginger Mint Tea – Green tea with spearmint is a popular Moroccan digestive. Green tea lives, such as gunpowder leaves, are rolled into small balls that unfurl in hot water to release a slightly bitter, smoky infusion. This refreshing brew is also good iced. Sweeten with honey, if desired.
Chamomile Mint Tea – For this blend, it would be good if you use jasmine tea, which is made from green and black tea leaves, because of its flowers. Chamomile and lavender heighten the floral bouquet and create a pretty pattern when they unfurl in a glass cup or pot.
Peach White Iced Tea – White tea is a mild tea that comes from the same plant as green tea but is picked when the buds are still covered in fine silver hair and not fully opened – it blends perfectly with fresh or thawed peaches.
Honeydew Mint Iced Tea – Subtle flavos of mint and melon mingle on the tongue with this iced green tea. Serve with fresh mint or mint ice cubes.
[wp_ad_camp_3]
Image courtesy: sheckys.com , redbookmag.com