Hair is a vital factor in external beauty. Ayurveda has specific treatments for maintaining healthy and beautiful hair. Ayurvedic hair oil helps your hair grow longer and nourished.
[wp_ad_camp_1]
There are natural materials that you can mix together to produce a good hair growth solution treatment. When mixed and used the right way, you can enjoy a healthier and shinier hair. One advantage of using herbal treatment is that it can penetrate thoroughly, thus the effects are astounding. Another benefit is that since it is made of natural materials, your hair is spared from damages due to harsh chemicals.
[wp_ad_camp_4]
Benefits of Ayurvedic Hair Oil
Repair dry-hair and frizzy split-ends
Cleanse scalp with antibacterial and antifungal ingredients
Prevent hair-loss, hair thinning, and premature gray hair
Promote growth of thick hair
Strengthens hair roots, nourishes and strengthens the hair shaft
The massage promotes sound sleep
Ayurvedic Hair Oil Recipe
Ingredients
1. Oil: Virgin coconut oil 14 tablespoons, sesame oil 4 tablespoons, sweet almond oil 2 tablespoons, castor oil 1 tablespoon, and neem oil 1 tablespoon.
2. Water: 10 tablespoons.
3. Dried powdered herbs: amla powder 1 tablespoon (dried amla berry seeds discarded, powdered), fenugreek leaves grinded 1 tablespoon, hibiscus 1 tablespoon (dried leaves and petals of red Hibiscus grinded), bhringaraja 1 tablespoon (dried leaves grinded), Brahmi Brahmi (Bacopa Monnieri) 1 tablespoon (dried leaves grinded), tulasi powder 1 tablespoon (dried leaves powder), henna powder 1 teaspoon (dried), and fenugreek powder 1 teaspoon.
Combine all the dried herbs in a heavy bottom pot. In a separate pot, bring water to a boil. Pour 5 tablespoons of boiling water on the dried herbs. Let herbs soak in water for about 2 hours. Pour all the oils over the soaked herbs in the pot. Stir well. Turn on heat at low so that the oil is warm to slightly hot. Continue steeping un-covered at low heat for 2 to 3 hours. Turn off heat. Let it cool.
Filter to remove all solids. Heat oil again to remove more moisture for about 30 minutes on low heat. Let the oil cool and store in non-transparent glass or plastic bottles.
[wp_ad_camp_2]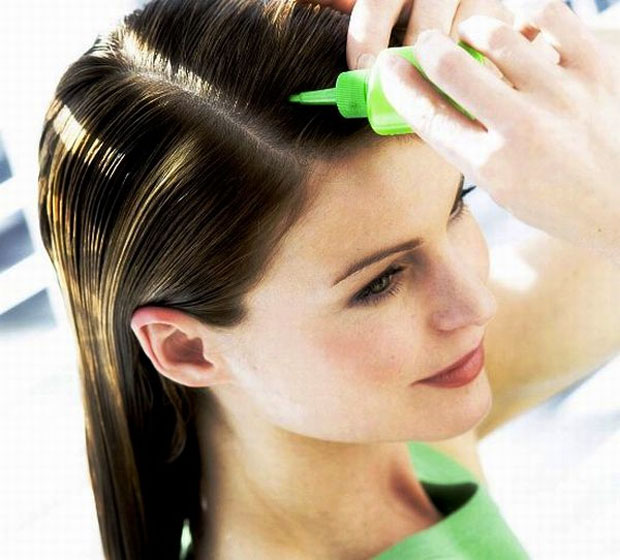 How to Apply
Hair oil should be applied at night before going to sleep so it will work on your scalp and hair overnight. In the morning, you may shampoo and wash your hair. It should be applied once a week for normal hair. It may be applied twice a week for dry hair, or every two weeks for oily hair. Normally, the oil is heated to lukewarm before massage. It is not necessary. However, the oil should not be cold. It should be at least at room temperature.
Dip finger tips in oil and rub in to the scalp. Repeat the process until most of the scalp is covered. Do not pour the oil directly on either your hair or scalp.
Now use young finger tips to massage the scalp in a circular motion for about 30 minutes. This will stimulate blood circulation. Now use your fingers to oil hair in strands especially if you have split ends. Put at towel on your pillow to protect your pillow and bed sheets from oil. In the morning, wash your hair with just warm water. If you choose, you may shampoo your hair.
Herbal Hair Oil Recipe
To make a herbal hair oil using aloe vera, fenugreek and curry leaves, you will need to get the following ingredients. They are: coconut oil, aloe vera, fenugreek, and curry leaves.
Grind aloe vera pulp, fenugreek and curry leaves. Mix it with coconut oil. Bring the mixture to a boil. Set aside to cool. Put in container for week before filtering the leaves.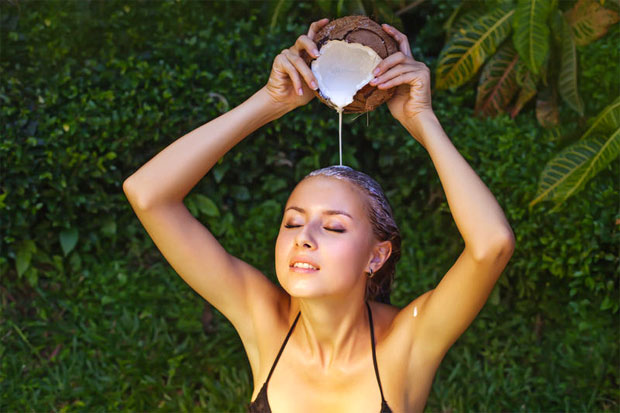 Hair Oil with Coconut Milk
Ingredients are coconut oil 1 cup, coconut milk 1 cup, brahmi powder 5 teaspoons, aloe vera 2 teaspoons, and tulsi leaf paste 1 teaspoon.
Grate coconut and using a mixer/grinder crush it. Then squeeze the milk. Use fresh aloe vera. Squeeze the inner crux or you can use with the skin but cut into small pieces. If you have tulsi leaves make it a paste or buy tulsi powder.
Mix brahmi powder, aloe vera and tulsi paste. Add coconut milk and mix well. Now add coconut oil and mix together. Start to heat it in low flame. Stir with a long spoon. When the fumes starts to come add few grains of rice or fenugreek or corn and see it pops up. This is the proper time to switch off the flame. Take care to not getting the contents too dark or do not allow to burn. When it cools down sieve it and pour into a suitable glass bottle or ceramic container.
You can apply this hair oil with coconut milk once in a week basis. First loosen your hair, take out all the knots with fingers moving from top to ends. Spread well all the strands. Apply the hair oil all over hair and scalp. Give a thorough massage. It is better to rub on scalp in a rounded motion. Do not scratch with finger nails. No need to apply excess oil, keep an average quantity to apply. Wait for half an hour. Then take bath. If may wash the excess oil out by washing hair with green gram flour.
[wp_ad_camp_3]
Image courtesy: diariodabeleza.com.br , researchayurveda.org , hairstylemakeup.com , shkolazhizni.ru