On a daily basis our human body endures sun, wind, pollution, chemicals, and many other products. Hair is the worst victim. Imagine the shampoos, blow-drying, coloring, perms, curlers, and straightening irons they have suffered at your or your stylist's hands. No wonder your hair sometimes looks like a frizzy mess!
[wp_ad_camp_1]
Split ends is a common hair problem that results in the hair ends splitting into two or more parts. This is usually caused when the hair is dry or damaged due to factors like improper care, chemical treatments or exposure to the sun and pollution. The outer layer of the hair known as the hair cuticle is damaged resulting in the exposure of the middle and the innermost layers.
As the protective layer of the hair strands is peeled off, the hair becomes extremely brittle and dry, thus resulting in hair fall. If you suffer from split ends and yearn for long, healthy hair, then here are some great home remedies.
[wp_ad_camp_4]
Oiling
Oils are synonymous with hair care. Oiling restores hair moisture. Mix olive oil, almond oil, coconut oil and a little bit of castor oil in a bowl. Heat it slightly. Apply it to your hair and make sure that you cover from the roots to the tips of the hair properly. Massage the oil properly onto the scalp as well.
Use a shower cap or a hot towel and wrap it around your head. Leave it on overnight and then wash off with lukewarm water and a mild herbal shampoo in the morning.
Massage jojoba oil onto the hair and scalp which helps in conditioning the hair strands. You can also mix with your regular conditioner to make it even more effective.
[wp_ad_camp_2]
Papaya
Papaya hair masks are the wonder treatment for split ends. Mash two to three slices of ripe papaya and blend it using a hand blender. Mix a cup of yogurt in it. Apply it to the hair and scalp and leave it on for around half an hour. Wash off with lukewarm water. This homemade hair mask helps in treating dry hair and the resultant split ends.
Avocado
Avocado is an excellent conditioning agent. Mash a ripe avocado and mix with some mashed banana.
Honey
Honey is an excellent natural conditioner for hair. Mix honey with a bit of olive oil or your conditioner and apply it to your hair, making sure that you coat the hair strands especially the split ends properly.
Castor Oil
Mix castor oil, olive oil, and mustard oil in equal proportions. Massage this amalgamation of oils into your hair. Wrap your hair with a towel and leave for around 30 minutes. Have a normal hair wash.
Milk & Cream
This is a tried and tested grandma's tip for split ends. All you need to do is take half a cup of milk, and mix in one spoon of cream. Blend and beat thoroughly, now apply this onto the scalp and hair tips. Let it be on for around 15 minutes and wash off normally.
Beer
It is not just meant for your parties and celebrations, but it can give you wonderful hair too. It is one of the most effective conditioners. All you need to do is take some beer in your palms and massage it into the hair. Ensure that the beer has soaked into your hair follicle. Now wash off, be careful while washing of, you may just have a lingering smell of beer in your hair.
Egg
Take one egg yolk and beat it with a tablespoon of almond oil and apply on your hair and massage into scalp. Keep it on for an hour and wash away regularly.
Beat an egg yolk with a spoon of water and apply the mixture on damp hair. Massage it in your hair and wash off regularly.
You can also beat 2 eggs with one banana and orange juice into a paste. With the help of the comb, apply this mixture at the hair ends, wrap your hair with a shower cap or a towel and leave it for 30 minutes. Wash off regularly, you can do this like twice a week if you have real bad split ends.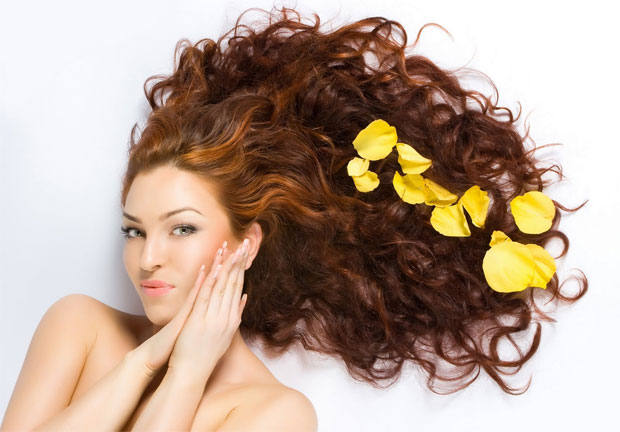 Preventive Measures for Split Ends
In addition to using these home remedies regularly to avoid dry hair, try the following preventative measures:
Avoid over shampooing. Shampooing can wash away the hair's protective oils, so try washing less often and use a mild shampoo labeled "for dry or damaged hair."
Condition regularly. Conditioners protect the hair's cuticle layer from splitting from the shaft. Pick a conditioner that works well for your hair and use it after every shampoo.
Wear a hat. Too much exposure to wind and sun can leave hair thirsty.
Trim off split ends. The biggest problem caused by dry hair is split ends. Schedule a trim every six to eight weeks to keep fraying ends under control.
Ease up on the heat. Heat (in the form of blow dryers, as well as straightening and curling irons) can quickly dry out hair. Let your hair air dry occasionally. Try using plastic cylinder rollers to straighten hair by wrapping slightly moist hair under and around rollers for about 10 minutes. For curling, try using sponge rollers overnight or sleeping with moist braids.
Don't swim without a cap. Use a rubber cap to protect your hair from the damaging effects of chlorine. If you must forgo a cap, rub a spoonful of olive oil into your hair before diving in.
Deep condition hair after it is exposed to salty or chlorinated water.
Brush less. Despite what you may have heard, too much brushing can actually fracture the hair, causing it to fall out. Fragile, dry hair is even more vulnerable to excessive brushing. Always brush hair gently and never when it is wet (use a comb, carefully, when hair is wet). The type of hairbrush you use is important, too. Boar-bristle brushes or "vent" brushes are good choices, since their rubberized tips don't pull the hair excessively.
We know that having a head full of healthy beautiful hair makes heads turn. Nothing complements a person's appearance more than hair that is well taken care of and styled in the hottest fashion. Follow these home remedies to keep your hair healthy and let your hair do all the talking.
[wp_ad_camp_3]
Image courtesy: yourbeautysystem.com , modera.co