Hair breakage, thinning and ultimately the fall of the hair is what most of us fear when it comes to hair health. Fenugreek seed or as Indians say 'methi seed' is a common ingredient in our kitchen.
[wp_ad_camp_1]
This seed exhibits a strong flavor which is widely used in making curries, daals and vegetables. Studies have shown that it has properties to stop hair loss. From dryness in scalp to conditioning your hair thoroughly, fenugreek seed can treat many hair problems. Having high protein and nicotinic acid content in it, these seeds not only aid your hair in re-growth but also strengthen the roots. The benefits of using the seeds include relief from scalp dryness, end to itching sensation, no more frizzy hair, and dandruff treatment. You can even make a hair mask with fenugreek seeds and apply it twice weekly to stop hair loss.
The seeds are available easily and inexpensive. There are several methods of using methi seeds that can be considered to add volume and softness to your hair in a natural way.
[wp_ad_camp_4]
Let's look at some of the methods.



Soak methi seeds in water for 7-8 hours. As the seeds soften, make a paste of it in the mixer. Apply the paste directly on your scalp and let it dry. Wash off with mild shampoo to get soft tresses.
Mix the methi paste with other natural home ingredients such as curd, apple cider vinegar and more to treat dandruff and frizzy hair. Apply it on the scalp for 1-2 hours and wash off with herbal shampoo.
Hot oil with crushed methi seeds mixed in it also makes for an excellent hair care process to try out in scalp itching and dandruff problem. Leave the paste on scalp and then wash off.
Take the fenugreek seeds in the mixer and make it as fine smooth paste. Now take the fenugreek paste in bowl. Add the 1 tablespoon of lemon juice to the paste. Mix both of them well and apply this mix all over hair scalp. This is the old grandma tip for removal of dandruff.
Make paste of finely powdered fenugreek seed and coconut milk. Rub the mixture on your scalp .Wait for half an hour. Wash the hair with some mild shampoo and condition it for voluminous, glossy and nutritious hair.
Soak the fenugreek seeds in the water for 24 hours. Strain and use the water to rinse hair. Do not wash the hair immediately. Let this water be there for at least 3 hours, after that wash your hair with lukewarm water (never use hot water on your hair). Repeat this daily for at a month to see your hair gaining strength and volume.
[wp_ad_camp_2]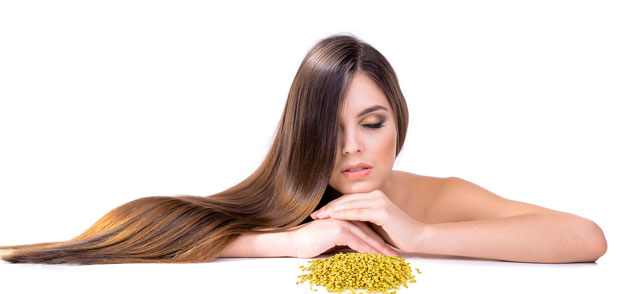 For fenugreek hair mask, mix fenugreek seeds paste and coconut milk well, apply to your scalp and hair and leave for half an hour. Now wash off with a mild shampoo and water.
Take 8-10 grams of fenugreek seeds and soak it in normal water overnight and then make a fine paste out of them in next day. Apply this paste all over the hair and hair scalp. Dry it for 30 minutes and rinse it off with the cool water. This hair mask works as the natural conditioner for hair and gives the shiny to the hair.
Take 250 g of green gram and 200 g of fenugreek seeds. Grind it and make a powder. Take 2 spoons of this mixture, add rose water and apply on your face, neck hands and legs. This will make your skin shine and glow. Application of fenugreek seeds for face with turmeric can give you a glowing face.
Grind the methi seeds to powder and add this powder to coconut oil and massage it in your scalp. Wash it off next day with cold water. This prevents premature graying of hair.
You may use these tips to your maximum benefit for your hair. Herbal remedies take time to achieve results but are a time-tested effective mechanism. So if you are patient and follow the tips regularly, you will achieve the desired results.
[wp_ad_camp_3]
Image courtesy: ckhairdesign.com , oilhealthbenefits.com , all4women.co.za