Why rush to a saloon for making your hair into glossy and shiny one?
Just have some eggs with you. Prepare your own shampoo within minutes in your kitchen itself.
[wp_ad_camp_1]
Eggs are very rich in vitamins, protein, minerals and other amazing ingredients that can benefit the beauty of your curls tremendously. Eggs can condition hair and make it much more moisturized- so it is best for people with dry, damaged or brittle hair to use this shampoo.
The first and foremost part of keeping the hair healthy is to remove the dirt from it. It is necessary that the shampoo one is using should be free from chemical properties as much as possible. The best policy is to use herbal shampoos and homemade shampoos containing natural elements. Here are few examples of preparation of egg shampoo mixing different natural substances with the egg yolk. An egg shampoo is good for enhancing the hair strength as it attributes its protein and other nutrients.
[wp_ad_camp_4]
Egg Shampoo – Variation 1
Ingredients:
1 egg
1 teaspoon olive oil
1 teaspoon lemon juice
1 tablespoon mild shampoo (preferably unscented)
1/2 cup water
Combine all these ingredients in a blender and blend it till it has become one smooth mixture. The above mentioned recipe makes enough shampoo for one wash for medium to long hair. If there is any shampoo left over, just refrigerate it and make sure that you use it within 36 hours. This shampoo is best for people with dry and damaged hair, especially if the damage is due to over-exposure to the sun.
Egg and Honey Shampoo
Honey and egg are two of the most beneficial ingredients for your hair. Both honey and egg are easily available in the market and are commonly used in household all over the world. These two key ingredients come together to become the honey egg shampoo that works magic on your hair. If you wish to add bounce, shine and radiance to your hair, try out this homemade shampoo.
[wp_ad_camp_2]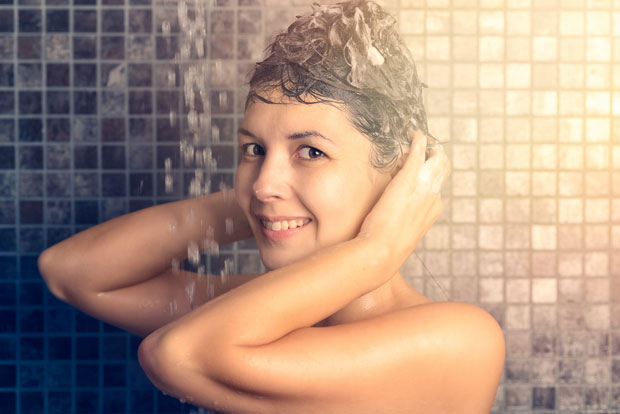 Ingredients
1 Large Egg
1/4 Cup Honey
2 Tablespoons Liquid Soap
1 Tablespoon Almond Oil (You can also use wheat germ oil)
1 Tablespoon Witch Hazel
1 Tablespoon Rosewater
2 Tablespoons Water
Put all the ingredients together in a jar or container which has a top that can be screwed shut. Shake the container or jar thoroughly till all the ingredients are blended well together. Apply the mixture to your hair like any other shampoo. Wash your hair thoroughly with water.
Honey provides shine to the hair whereas egg helps to make is soft, smooth and bouncy. Provide you hair with the honey egg shampoo treatment and see it transform into one of your best features.
All Natural Egg Shampoo
Ingredients:
2 c of water
2 bars of Castile Soap grated
1oz tincture of benzoin
3 egg yolks and
2 oz. of glycerin
Mix the ingredients and make a shampoo
Lemon Egg Shampoo
It is an excellent homemade shampoo that deeply nourishes, vitalizes and rejuvenates your hair from within making it look shiny and soft to touch. This shampoo is also extremely effective if you wish to add bounce to your hair.
The lemon-egg shampoo ensures that you hair is not affected by any harmful chemicals that might be present in other industry made shampoos.
1 Egg
Any Fragrance Oil
3 Tablespoon Shampoo (unscented)
1 Tablespoon Lemon Juice
Preparation of lemon-egg shampoo is extremely easy. Mix all the ingredients together in a bowl till they are blended in well together. Apply the mixture to your hair like a normal shampoo and massage it well into your hair. Wash off with normal water.
Lemon offers cleansing properties that ensures that your scalp remains healthy and your hair mixes shine with radiance. Egg is an excellent moisturizer for your hair and will coat it with a protective shield.
Special Egg Shampoo
You only need one ingredient – egg – to make the basic recipe. But there are some extras you can add in, depending on your hair's need.
Ingredients
Optional add-ins
4 drops of Peppermint Essential Oil (or essential oil of your choice)
1 tablespoon Lemon/Lime juice (cleansing, helps with hard water)
1 teaspoon Honey (moisturizing)
1 teaspoon Aloe Vera (moisturizing)
1 teaspoon Olive Oil (use for dry/distressed hair)
1 teaspoon Amla Powder (beneficial in hair loss and adds shine)
1 tablespoon Henna or Cassia (to thicken the mixture; use henna for dark hair and cassia for lighter hair)
Method: Whisk the egg in a bowl. Add the optional ingredients if using and mix thoroughly. You can choose to add some warm water (2 to 4 tablespoon) to this mixture. If you have oiled your hair or have very greasy hair then do not dilute it.
How to use: There are two ways you can use egg shampoo:
Use without wetting/rinsing the hair. This will help emulsify the oils better and get your hair really clean.
Use on wet hair: If your hair isn't too oily you can use after rinsing the hair with water.
Pour a little egg shampoo mixture into your hand. Massage/scrub it into your scalp and hair (as you would any shampoo). Leave it on for 5 – 10 minutes and then wash out thoroughly with lukewarm water.
Fatty acid in the egg conditions the hair beautifully. If your hair is prone to dryness, apply a leave-in conditioner post wash. That will keep your hair conditioned and moisturized. This egg shampoo cleans the hair and increases bounciness and smoothness of hair without stripping it of natural oils.
[wp_ad_camp_3]
Image courtesy: constantcontact.com , lionessebeautybar.org