Let's face it ladies, our breasts are not the same as they were when they were younger. Usually after having children, gaining and losing weight, and breastfeeding our breasts lose the youthfulness and begin to sag.
[wp_ad_camp_1]
There are a number of remedies for regaining the firmness of saggy breasts, including regular pectoral exercises, olive oil massaging, ice massaging, cucumber and egg mask, vegetable oils and essential oils in different forms. But before we go into the solutions for sagging breasts, it is important to understand the causes, so you can specifically direct your preventative techniques or treatments.
Causes
Age is an important factor in the reduction of firmness in the breasts. Size is not important, but it is important to have a firm and properly-shaped breast if you want to keep your breasts healthy and effective. According to various studies, it is understood that when a woman reaches her late thirties, the skin of her body becomes loose and begins to show signs of aging. This is especially true in the breasts, particularly if a woman has gone through a pregnancy, according to the Oregon Institute of Breast Health Education. The chest tissues become looser while breastfeeding, therefore after nursing a child, breasts lose their firmness and shape, according to the Australian Institute of Health and Welfare. It is safe to say that the main reasons or causes of reduced breast firmness are age and breastfeeding.
[wp_ad_camp_4]
Remedies
There are a wide variety of creams and lotions available on the market today to tighten and tone up skin, but these solutions often have a dangerous amount of side effects, so be sure to consult your medical specialist or gynecologist before starting this form of at-home treatment.
The best way to go about regaining firmness in your breasts is organic. They are very effective without any side effects, and they are also far less expensive. One relatively safe option is a formal operation, like breast firmness surgery, but there is not sufficient evidence that the effects are long-lasting. Apart from that, there is always a danger to surgery, and there is never a guarantee against complications when you go under the knife.
Exercises and massage are actually the best ways to keep your breasts firm and in proper shape, but we will explore many more of the home remedies below.
Breast Exercise
One of the best ways to add firmness to breasts is pectoral exercise. The easiest and most popular exercise is to do push-ups, which strengthen the pectoral muscles beneath the breasts. Overall, it will help to shape up the breast and reduce the excess fat deposits around the chest.
Yoga
The benefits of yoga for the entire body have been widely studied, and it is primarily a mechanism of toning the body and increasing flexibility. Some of that toning can occur within the breast, depending on which positions you commonly practice. Different yoga styles focus on different parts of the body, so those that focus on the upper body, shoulders, pectorals, or upper arms are best for adding firmness to breasts. Try headstands, back-bends, and the inverted leg stretch to reverse some of the negative effects of gravity on your breasts.
General Physical Activity
There are some normal behaviors and physical activities that are detrimental to the firmness of breasts. Excessive forward bending, jogging, and running can all speed up the sagging behavior of your breasts. The jerking motions stretch the skin and the muscles, making it more difficult to correct and reverse the effects. However, the benefits of jogging and running are well known, so many women still want to participate in these exercises. A solution is to buy appropriately sized sports bras that reduce movement of the breasts. Some women even wear two sports bras to completely isolate the breasts from excessive movement during jogging or other physical activities and sports.
[wp_ad_camp_2]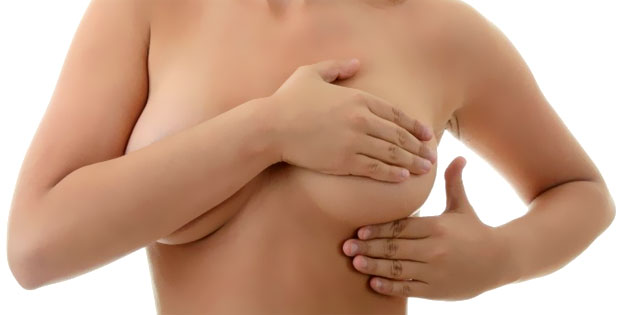 Massage
Massage your breasts at least 2-3 times per week with olive oil. It will help add firmness to the skin as well as improve the skin tone and texture. It will also tone your chest and increase the elasticity of the skin.
Posture
Poor posture is one of the most overlooked causes of sagging breasts. By lowering your shoulders and hunching forward, you are not giving any structural support to your breasts, and they hang freely, completely at the mercy of gravitational forces. Poor posture can also exacerbate any back pain or muscle soreness you have from large breasts, which happen to be the type of breasts that show signs of sagging the most dramatically.
Ice Massaging
Ice massaging can be another effective form to regain firmness in sagging breasts and uplifting them. Take two cubes of ice and massage it in a circle around your breast for at least a minute. Don't do it for too long, as the skin of the breast is very sensitive.  This will help tighten and tone the skin of your breasts. Cold temperatures naturally tighten up skin and slow cellular movement.
Special Bras
It is very important to consider the kind of bras you wear if you are not happy with how saggy your breasts have become. You need to select the appropriate bra which makes the breast look firm and provides enough support to keep it high and tight. There are special bras with strong support holders at the cup bottoms which lift your breast and keep them firm.
Breast Mask
Some people also choose to use a breast mask once a week. To prepare the mask, grind a cucumber and add an egg yolk, then add some butter or natural cream into the mixture. Blend the ingredients into a paste and apply it to your breasts, allowing it to sit for around 15 – 20 minutes. Then, wash it off. This technique will help strengthen the tissues of the breast and add firmness to them.
Along with these techniques, EHC reminds every woman to have a breast examination at least once in a year and for those who are above the age of 35, to have annual mammograms.
[wp_ad_camp_3]
Image courtesy: beautyandslimming.co.uk , healthterminal.net