Deliciously sweet with musky undertones and a soft butter-like consistency, papaya is a tropical fruit with great health benefits, especially for the skin. It helps in toning and moisturizing your skin, which will leave your skin glowing naturally.
[wp_ad_camp_1]
Its natural properties will remove skin blemishes, pimples, and dark patches. Papaya is a leading ingredient in skin whitening products because it contains papain, a natural enzyme that promotes skin renewal and cell turnover. It helps in exfoliating the skin to reveal newer cells, and has restorative properties that soften the skin.
Eating papaya may also aid in whitening skin and overall skin clarity. Papaya is rich in vitamins A, E and C, and other anti-oxidants that help in giving skin the moisture and protection it needs.
[wp_ad_camp_4]
The nutrients contained in the papaya fruit helps in the skin's healing as well. In certain cultures in South America and Asia, papaya is eaten not only as a ripe fruit but also as a young, green fruit used in stews and soups. Papaya leaves are also sometimes mixed into some dishes as well. Being a rich source of vitamin A and papain, this fruit helps in removing dead skin cells along with breaking down the inactive proteins. The best feature of papaya is its 'low sodium quality', thus resulting in very little retention of water. It just helps you keep your skin hydrated.
Papaya is also fruitful for treating the dark spots. The application of mashed and uneaten papaya with or without milk on your face can help in removing the dark spots and evens out the skin tone which results into a fairer and glowing skin.
For getting hydrated skin, mix mashed papaya with honey and apply on your face.
Papaya is also effective for treating dry skin. All you need to do is to mash a small section of papaya and mix it one tablespoon of milk cream. Apply on your face for 20 minutes and then wash it off.
For skin tightening, apply mashed papaya mixed with honey and rice-flour for 20 minutes, three times a week.
Papaya is also suitable for using as a body scrub. It can be made by mashing raw papaya and mixing it with honey, salt spa and olive oil.
The skin of the papaya cannot only be used on the face, but it can also be used for whitening the skin on your legs. Using papaya on your face regularly will reduce the signs of ageing.
[wp_ad_camp_2]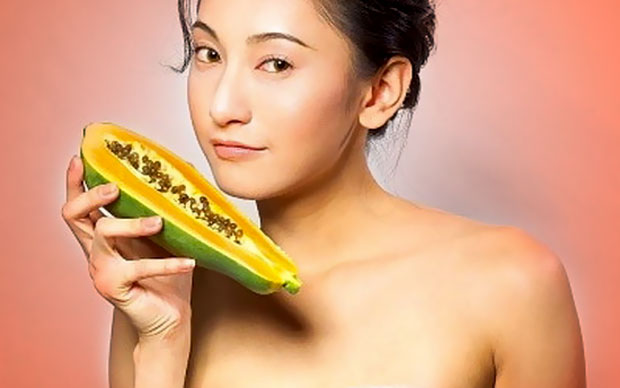 Papaya-based Face Masks & Scrubs
For curing the skin tans and brightening the complexion, a simple face pack can be made out of papaya. Make a paste of pulpy papaya. Add yogurt, honey, lemon juice and egg white into it. Mix all ingredients till the mixture becomes thick which can be applied on the face. Wash your face thoroughly so that it becomes clean and dirt free. Apply this facial mask on your face and leave it for 15 – 20 minutes. Wash off with the lukewarm water and pat dry.
Prepare a homemade face mask by mixing one teaspoon of organic honey and a beaten egg white in half a cup of papaya pulp. You may also add a tablespoon of plain yogurt in case you have sensitive skin. Leave this mask on your skin for five minutes and then wash it off with warm water, followed by a cold water rinse.
Another similar mask can be prepared by blending half a cup of papaya, a tablespoon of yogurt, whisked egg white, and one teaspoon each of lemon juice and honey. Applying this recipe on a regular basis helps remove blemishes and assists in skin whitening.
When dealing with blemishes and dark spots, apply a piece of papaya mashed along with one tablespoon of honey and two tablespoons of milk. Leave this mask on your skin for 15-20 minutes and then rinse it off. This papaya remedy helps reduce wrinkles, too. Follow this beauty treatment once or twice a week.
You can also make a body scrub by combining papaya with olive oil, honey, and sea salt.
Puree one cup each of pineapple and papaya. Add a tablespoon of honey in it and apply the mixture on your face. Rinse it off after 15 minutes to get glowing skin.
Take half a cup of papaya, mash it, add four teaspoons of white clay (use green clay if you have oily skin), and a teaspoon of aloe vera gel in it. Smear this refreshing and exfoliating facial mask on your face and rinse it off after 15 minutes.
Blend a cup of unripe papaya in a blender together with one teaspoon each of plain yogurt, honey, and vitamin E oil. Leave this skin-lightening mask on your skin for 15-20 minutes before washing with cold water.
You can make a papaya and oatmeal facial scrub at home mashing two slices of ripe papaya and mixing two egg whites, five tablespoons of oatmeal, and a teaspoon of lime juice in it.
Let papaya help you reflect the health of your inner body on your outer skin. It is filling, tasty, and inexpensive.
[wp_ad_camp_3]
Image courtesy: becomegorgeous.com , phaidep.vnaz.vn