Glowing and radiant skin is every woman's dream, and some men too wish for it. Moisture-boosting and age-defying, night creams should be an essential part of your beauty routine.
[wp_ad_camp_1]
Going to bed with night cream on your face will benefit your skin while you sleep. It works to rejuvenate your skin and promote cell renewal when you are asleep. This makes your skin look soft, young and moisturized. Most of the night creams available in the market have chemicals that can damage your skin. Homemade night creams works on your skin naturally and is a safe option. EHC bring you a few homemade night creams that can be easily made at home.
[wp_ad_camp_4]
Apple Night Cream
Apples are rich in vitamins A, B and C, as well as beta-carotene, malic acid and antioxidants. These nutrients help maintain healthy and younger-looking skin. This night cream also includes extra-virgin olive oil and rose water. Both olive oil and rose water help improve skin tone and reduce pigmentation. Olive oil also works as a natural skin moisturizer and delays the effects of aging on skin due to its healthy fats and antioxidants. Rose water is a great beauty aid as it calms acne, maintains the skin's pH balance, heals scars, regenerates skin tissues and revitalizes aging skin.
Ingredients are 1 apple, olive oil, rose water, a blender, a double boiler. Keep a knife, a bowl, a mixing spoon, and a plastic or glass container.
Cut an apple into two halves. Remove the seeds. Chop the apple into small pieces. Toss the pieces into a blender and add one-half cup of olive oil. Turn on the blender for about five to seven minutes until the mixture has a smooth and thick consistency. Pour the mixture into a double boiler and heat it for a few minutes until it is warm. Remove the mixture from the double boiler and allow it to cool. Then, mix in one-half cup of rose water. Finally, store it in a sterile container. You now have your own homemade apple night cream. You can store it in the refrigerator for four to six days, using a portion of it daily.
Cleanse your face and neck with a gentle cleanser and pat dry. Apply the cream on your skin with your fingers, gently rubbing it on with upward strokes in a circular motion. Leave it on overnight. In the morning, rinse it off with lukewarm water. It is suitable for all skin types, including sensitive skin.
To create a double boiler, fill a pan halfway with water and turn on the heat. When the water starts boiling, place a smaller bowl containing the blended apple mixture in the water. Let it simmer for a few minutes and then turn off the heat.
You may add one teaspoon of honey or vitamin E oil to this apple night cream. Both ingredients are great for your skin as they moisturize, promote skin cell renewal, and help fade blemishes.
[wp_ad_camp_2]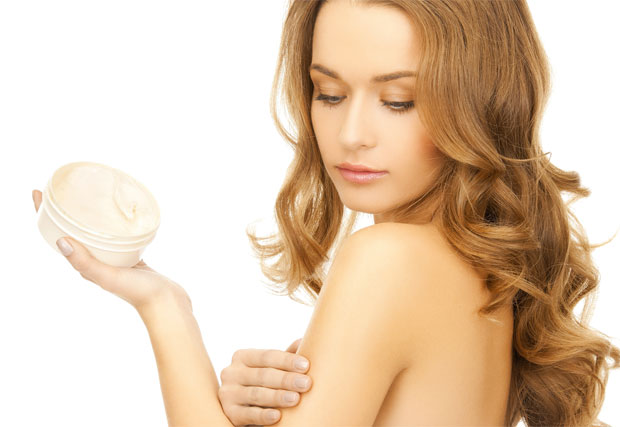 Almond & Lanolin Night Cream
This homemade night cream is ideal for winter skin care. The key ingredient of this night cream is almond oil and being rich in vitamin E, it works wonders on your skin. Vitamin E is also called 'beauty vitamin'. To make this cream, mix 3 teaspoons of almond oil, 2 teaspoons of coconut oil and lanolin each. Then, boil the mix in a double boiler pan. Now let it cool at the room temperature. Once cooled add few drops of rose water and about ½ teaspoons of lemon juice to it. Lemon juice helps in reducing tan while rose water makes your skin look fresh. Regular use of this night cream will give you a radiant and flawless skin.
Olive Oil Night Cream
Olive oil night cream is ideal for people with oily skin. Mix 3 teaspoons of bee wax with ½ cup of olive oil. Heat the mixture in a double boiler. Once the mixture cools down to room temperature, add ½ teaspoon of each vinegar and water. Whisk well to form a cream. Vinegar helps in eliminating excess oil from the skin. It also helps in restoring normal pH of the skin. You can apply olive oil night cream daily to get a fresh and radiant skin. Make sure you are not allergic to vinegar before applying this night cream.
Aloe Vera Night Cream
Aloe vera is a good option for people who have acne or scars. You can mix small amount of aloe vera gel with 2 teaspoons of evening primrose oil and 1 teaspoon of lavender oil. Stir it well to form a cream. Aloe vera will not only cure acne, but will also give you a clear smooth skin.
Apply the night creams after face wash to get effective results. Apply the night cream in gentle, upward strokes in circular motion using your fingers. Avoid the area around your eyes. Never forget to apply the cream around your neck. This is the place where the aging lines are most visible. Remember to apply the cream half-an-hour before you go to bed.
[wp_ad_camp_3]
Image courtesy: financialpost.com , guest-bloggers.com