People spend a lot of money, time, and effort to look and smell good. A bad hair odor can be quite an embarrassment, turn-offs, and leaves behind a stinking impression that can be damaging to your confidence and social life.
[wp_ad_camp_1]
Hair health is simply a matter of good hygiene, but at times it can go haywire due to fungal infections and other medical disorders. The best way to deal with hair odor is to keep your tresses clean and hygienic.
Regular hair wash is one of the best ways to keep foul smell at bay. Sweat can also make your hair stink. Natural methods for making your hair smell good are always safe and effective. Go ahead and try the following towards a good-smelling hair.
Regular Wash
You need to wash your hair every alternate day if you are exposed to lot of dust and pollution. If not, then wash it after every 2 days. Washing your hair gives your hair a fresh and clean smell.
[wp_ad_camp_4]
Tomato
You would be surprised to know that tomato juice is perhaps one of the best known ways to remove hair odor. Just dab some concentrated tomato juice on your scalp and hair and leave it on for 15 minutes, before rinsing it off with tepid water. Another way of doing so would be to dilute tomato juice with loads of water and massage it gently on the scalp. However, don't forget to rinse it off properly to avoid smelling like a tomato instead.
Lemon
Nothing leaves your hair smelling as good and great as lemon, which possibly explains why most of the hair cosmetic brands vouch for lemon flavored shampoos and cleansers. To seal in the goodness and freshness of lemon in your mane, squirt some fresh lemon juice and massage it gently on your scalp. Keep it on for half an hour and rinse off.
Rose Water
Rose water is one of the best astringents for you. It is extremely beneficial for your skin. For your hair, rose water doesn't have any extra benefits. However, soaking your hair in rose water can make it fragrant.
Jasmine Oil
Jasmine is one of the best known fragrant flowers. A thorough massage with jasmine oil can make your hair smell good and it also fosters quick hair growth.
Hibiscus Oil
Hibiscus oil is one of the healthiest oils for your hair. It helps to darken your hair and strengthen hair roots. Hibiscus oil has the natural floral aroma, so it makes your hair fragrant.
Smoked Essence
In aromatherapy, aromatic oils are burned and the smoke is used to nurture your senses. This idea comes from ancient times when lavender and other floral oils were burned and the smoke was used to dry the long hair of princesses.
Henna
The smell of henna is loved by some and hated by others, so it is a subjective choice. Apply henna on your hair to get its beautiful red color and a distinct smell too.
Tea Leaves
Do you like the smell of premium Darjeeling tea? If you do then you can wash your hair with liquor (water boiled with tea leaves). It helps to darken the color of your hair and also gives a special fragrance.
Medicated Shampoo
If everything else fails to solve your hair odor, then it is best advised to go for a medicated shampoo. Most medicated shampoos come with sulphur and salicylic acid that is known to be effective against fungus. However, it is best to consult with a dermatologist before reverting to one such medicated option.
Baking Soda
Baking soda is one of the simplest solutions to battle hair odor. Before you make a splash, just add a little baking soda to your bucket of water and then rinse your hair with it. You can also add a little baking soda to three cups of warm water and rub this mixture on your scalp for twenty seconds, before rinsing it off. This treatment especially works well against hair fungus.
[wp_ad_camp_2]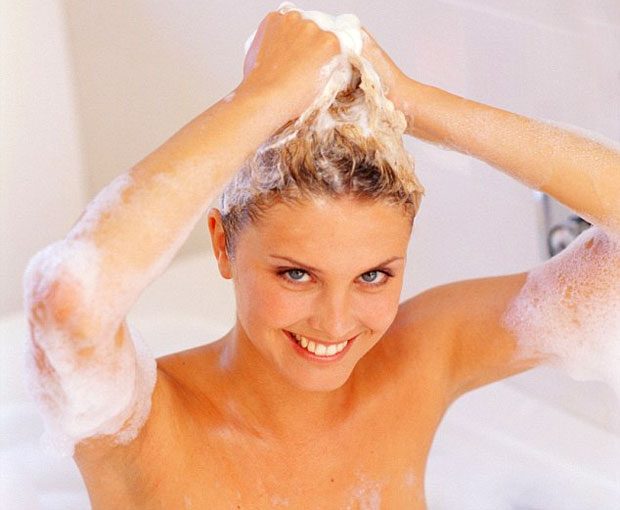 Points to Ponder
Texture matters – If your hair is thick, it will likely absorb much of the oil produced by your scalp, but for those with finer strands, excess oil, which isn't "soaked up" by the hair, can attract surrounding odors.
You are what you eat: A diet consisting of heavily scented or pungent foods can cause the hair and the scalp to emanate intense odors — particularly when it is warm outside.
You may need to see the doctor: Sometimes odor issues can be the result of an infection. Fungi, for instance, love warm, dank conditions (such as oily scalps in the summertime). So when it doubt, head to the doctor for treatment.
Clean up: If odor is caused by a bacterial or fungal infection, help stop odor from coming back by sanitizing all your combs, brushes, and pillowcases.
[wp_ad_camp_3]
Image courtesy: lrytas.lt , dailymail.co.uk