Oat (avena sativa), is basically a cereal whose seeds are edible and are known by the same name. This cereal originated in Scotland and was a staple diet of the Scottish whose meals comprised of cooked oats.
[wp_ad_camp_1]
Apart from consumption by humans in the form of oatmeal and rolled oats, this cereal is also used as livestock feed. A bowl of piping hot oatmeal is perhaps a healthy way of starting your day.
The benefits of oats are many but here we have split them into skin and hair benefits.
Oats for Healthy Skin
Wild oats were used as early as 2000 BC by the Egyptians and Arabians to beautify their skins. Oat baths were largely used by the ancient Greeks and Romans for healing skin ailments. Some of the benefits of oats for skin are as follows.
[wp_ad_camp_4]
Treatment of Acne
Cooked oatmeal is a great natural remedy for treating acne. Boil some oatmeal till it softens and let it cool for 15 minutes. Apply it on the affected area and rinse off after 10 minutes. This will absorb and remove excess oil and bacteria from your skin and exfoliate dead skin cells, thus helping to combat acne.
Removes Dryness
Oats are effective in fighting dull, flaky dryness as they contain polisaccharides, which become gelatinous in water, thus forming a fine protective film when applied on skin. Besides, this cereal is effective in addressing dry skin symptoms like itchiness, rashes, scales, peeling etc. To get rid of dryness, you can make a facial mask by mixing a smashed banana with a cup of ground oatmeal and adding some lukewarm milk. Stir it properly to make it smooth and apply it all over your face for 10-15 minutes. Rinse off with cold water. This will help in replenishing the skin moisture, thus keeping it soft and hydrated.
Moisturizer
It acts as a natural moisturizer by removing the dead skin cells. It contains beta-glucan that forms a fine film on your skin as well as penetrates deep into the skin to provide much needed deep moisturizing to your skin. Besides, it enhances wound healing and shallow abrasions and improves collagen deposition and activation of immune cells within the skin.
Relieves Itchiness
Oats have anti-inflammatory properties and are suitable for all skin types. They are clinically effective in healing dry and itchy skin. Oats ground into powder are known as colloidal oatmeal. This powder can be mixed with warm water to form a thick paste and applied over itchy skin to get immediate relief form intense itching.
Skin Lightening
Oats are known for their skin lightening effects as well as improving the skin tone and texture and smoothing out blotchy areas. It is increasingly used in cosmetology in various skin care products such as body scrubs, soaps, exfoliation creams and general body lotions of reputed brands.
Natural Cleanser
Oats contain natural cleansers called saponins that can remove dirt and oil from the pores without causing irritation, thus leaving behind soft and silky skin as well as reducing pore size.
Skin Protection
The proteins in oatmeal help in maintaining the skin's natural barrier function and protect your skin from harsh chemicals as well as skin conditions like eczema, rosacea, and rashes. The lubricating fats in oats are a great moisturizer that makes a protective layer over the skin to fight UV rays. In this way oatmeal helps in relieving symptoms of ageing skin.
[wp_ad_camp_2]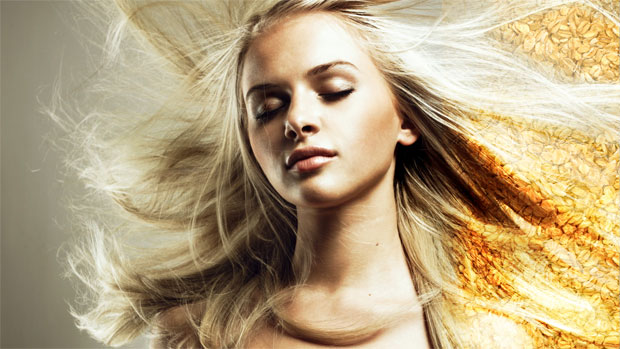 Oats for Healthy Hair
Oats are good for hair as well. When applied topically, they can make your hair soft and strong.
Treatment of Dry and Itchy Scalp
Being a natural moisturizer, it can be applied on hair to get rid of dryness and itchiness and make your hair soft and shiny. It is often used as an ingredient in shampoos.
Treatment of Dandruff
Oatmeal can be combined with other ingredients and applied on your hair before shampooing to get rid of dandruff.
Combats Hair Loss
Hair loss can occur due to a number of reasons such as alopecia, harsh chemical treatments, hormonal imbalance or unhealthy lifestyle. Malnutrition, that is deficiency of essential vitamins and minerals, is the most common cause of hair loss. Oats contain high amounts of zinc, iron, magnesium and potassium that promote hair growth.  A meal comprising of oats, berries and pumpkin is a rich source of vitamin C, vitamin A as well as other nutrients. Vitamin C prevents scurvy, a disease that can also cause hair loss. Vitamin A, on the other hand, promotes hair development and maintenance.
Oats is Tasty
You can use whole oats or oat flour to make bread or muffins. Being extremely flexible, oats can replace fast and processed food and can be easily used in making pastas, muffins and croissants. Hence, oatmeal is a super food and can be a nutritious choice for all meals as well as snacks. Moreover, due to its nutty taste it can even be eaten raw without any adverse effects.
[wp_ad_camp_3]
Image courtesy: blogspot.com , alphacoders.com , onlyhdwallpapers.com