Lassi (pronounced LAH-see) is a popular drink from India. It is a smoothie made with a base of yogurt blended with warm water. Yogurt, when transformed to lassi, becomes lighter and aids in digestion.
[wp_ad_camp_1]
Lassi is the ultimate probiotic; it provides a natural means of promoting the proper intestinal flora. It makes a good after-lunch drink and helps eliminate gas pains. Herbal Lassi contains invaluable Indian herbs which contain a variety of safe and useful medicinal properties to maintain good health and long life.
The major ingredients of herbal lassi are honey, ginger, garlic, and black pepper. It is ideal for people like IT professionals and high profile managers whose lifetime job is more of a brain work which needs continuous free flow of oxygen to brain through uninterrupted blood supply. The oil-rich junk food causes formation of plaque on the inner walls of blood vessels thereby narrowing down the arteries and other blood vessels.
[wp_ad_camp_4]
This increases the resistance to the blood flow and thereby further increasing the pumping load on heart and heart muscles. Drinking herbal lassi regularly can aid in stable blood pressure, optimum blood sugar, and smooth blood circulation. All these can prolong the life and efficiency of heart, kidneys, liver and eyes.
Ingredients
Black Pepper Sugar Powder: This powder is made of sugar and black pepper. It is to be prepared by taking 15 spoons of sugar and 150 black pepper seeds into in a small blender. Grind the mixure well to make it a fine powder and keep the powder into a bottle for daily use in lassi. This entire pepper sugar powder is to be used for about one month, i.e., half a teaspoon per day in the lassi. This means that we are making sure to eat at least 5 black pepper seeds every day. Diabetic patients can avoid use of sugar by taking appropriate quantity of fresh pepper powder instead of pepper seeds and sugar.
Ginger Garlic Paste: Take 100 g of ginger and 100 g of garlic. Remove the covered layers from both ginger and garlic cloves and clean them well. Cut the ginger into small pieces and put the same into a blender along with cleaned garlic cloves. Grind them well to make it a fine paste. One teaspoon of rock salt can be added to this paste while grinding for taste and also to preserve it for longer times.
Honey: Pure organic honey is what we are talking about. Add one spoon of honey to one glass of butter milk. This will help you to consume honey in therapeutic quantities.
[wp_ad_camp_2]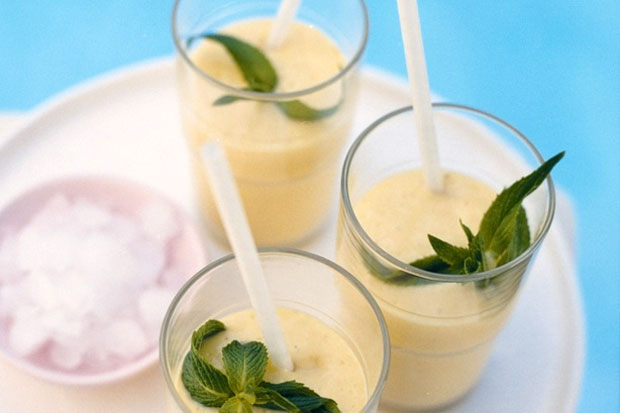 The Making of Herbal Lassi
Take 1 big glass of buttermilk and add one teaspoon of honey, one teaspoon of ginger garlic paste or dried ginger powder, and half a teaspoon of black pepper sugar. Mix well. Your power drink is ready.
Drinking of one glass of herbal lassi before going for a morning walk will be highly beneficial to help detoxify the body through increased sweating. It can be beneficial for digestion if you drink it right after lunch. You may add a bit of cardamom and cinnamon also which will improve your appetite.
Lassi, unsweetened, with added salt or rock salt and cumin or jeera powder is a powerful coolant and digestive aid. By adding mint leaves, coriander and chopped onions, it also helps to keep you cool when temperatures are high in summer.
Health Benefits
Lassi has the same health benefits as yogurt. It reduces acidity in the stomach, colonizes the gut with healthy bacteria, improves immunity, helps digestion and serves to keep the internal organs cool during hot summers.
Lassi, prepared with curds made the traditional way, is probiotic, meaning it is full of friendly bacteria that help reduce cholesterol, improve metabolism and help your intestines absorb nutrients easily.
Lassi is full of calcium, protein, carbohydrates, Vitamin A, B and riboflavin. For those with lactose intolerance, lassi is perfect since lactose is converted to galactose and glucose by bacterial action. Lactobacillus, as you know, is one of the "good" bacteria you must have in your gut.
Lassi improves your bone and dental health. Since lassi is rich in calcium, it is an excellent way to strengthen your bones.
Caution
Do not try to mix lassi with fruit since yogurt and fruits are contraindicated in Ayurveda. Buttermilk should not be used during the flare-up phase of rheumatoid arthritis, in severe constipation, asthmatic conditions and following immediate exposure to heat.
[wp_ad_camp_3]
Image courtesy: happylifestyletips.com , acefitness.org , taste.com.au