There is a lot of garbage news about remedies for hair growth. So when we first heard that juice from onion could help people re-grow their hair and also reverses gray hair.
[wp_ad_camp_1]
Team EHC went ahead and did some research and it appears that some clinical testing has been done with this unusual remedy and the results were of astonishing merits.
Onion juice has been used for hundreds of years to treat thin and greying hair. They have been shown to help increase hair growth and reverse grey hair when applied to the scalp. It provides nourishment and circulation to the hair follicles. It also kills germs, parasites, and is helpful in treating some fungi infections, all of which can aid in prevention of hair loss. Onions are also high in sulfur, which helps in regenerating the hair follicles.
[wp_ad_camp_4]
A few weeks ago, a breakthrough cure for thin and grey hair was published and showed great results for the effectiveness of a topical compound called pseudocatalase (PC-KUS). The reason this topical cream was found effective was that it targeted the cause of grey and thinning hair. Research from Bradford University in the UK and several other universities have shown that grey and thinning hair is caused by a buildup of hydrogen peroxide and a decrease in the natural antioxidant, catalase. Onion juice increases the level of catalase on the skins surface, reducing the buildup of hydrogen peroxide.
What Onions Do
Onions have a lot of properties that make them special especially for hair loss treatment. Onions are rich sources of many nutrients such as vitamin C, Vitamin B6, calcium, magnesium, potassium, germanium and most importantly sulfur. Onions cleanse your scalp making it free from dirt and other microbial infections. Onions increase blood circulation in your head boosting hair growth activity at that spot.
Sulfur is the mineral that is present in every cell, and a lot more in hair, skin and nails. High levels of sulfur present in onions help in regeneration of hair follicles by providing nutrients directly into the scalp, and helps in reversing hair loss normally caused by DTH (a hormone).
[wp_ad_camp_2]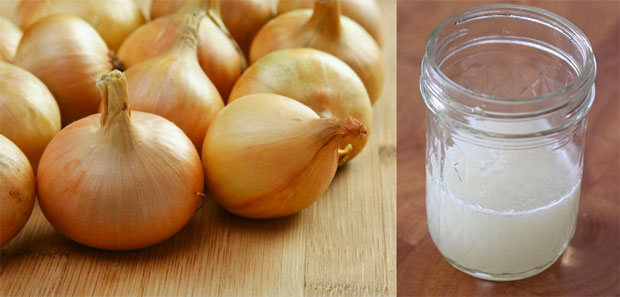 Making Onion Juice
Fresh juice will be more potent, and it is best to make the juice in small amounts so it is does not have to be stored for a long period of time.
If you have a juicer, this is the easiest way to make onion juice. Just peel the onion, cut it in half and put it in the juicer. Another way is to peel the onion and cut it into about 4 sections, then put them into your blender or food processor and start blending. Lastly, strain the mixture so that only the juice is remaining. A third way to get onion juice is to peel the onion and cut it in half. Grate both halves of the onion over a dish and then strain the mixture to get just the juice.
For the first application of onion juice, you may want to test it on a small area (in case you may be allergic to it) or water down the mixture. Even though it is natural, pure onion juice is strong. Apply the onion juice daily to your scalp and lightly massage it in, this helps stimulate the hair follicles and allows for maximum absorption. Leave the onion Juice on for about 30 minutes to 1 hour. The smell is powerful, and to avoid smelling like onion all day, you can apply it at night and then wash it out before you go to bed.
Onion-honey mixture – Take one-fourth cup of raw onion juice and add honey to it. Use this to massage your scalp on a daily basis to see the difference.
Onion is a natural anti dandruff solution – Applying onion juice on scalp for half an hour before washing your hair with a shampoo can be very effective for treating dandruff.
Natural Conditioner – To condition your hair naturally, you can apply a mixture of onion and fenugreek paste on your hair. Keep it for half an hour and wash off with a mild shampoo.
If you are scared of tears and irritation in eyes due to grating of onions while taking out its juice, you can use onions in another way. Take 4-5 onions and chop them. Take a liter of water and boil it. Add the chopped onions to boiling water. Let it boil for another 5-10 minutes. Put off the flame and let the water cool. Now strain and use the water to wash your hair after using shampoo. If you can stand the smell, do not rinse hair with other water that day. Next day shampoo your hair use clean water to wash off.
More Tips
Always know the reason for your hair fall first and then go for the right treatment.
Do not rub hard on the scalp, it may induce hair fall giving an effect exactly opposite to what you had wanted.
Use the treatment at least for a fortnight at a stretch every other day.
You can use hair care products with good tinge of fragrance to overcome the strong odor of onion.
Use of conditioners (preferably natural such as lime water and beer as an afterwash) could be used with onion juice hair mask.
Onion may give out a very strong whiff, but that is the key to your hair growth and re-growth.
[wp_ad_camp_3]
Image courtesy: huffpost.com , rareflowers.co.uk , healthyjuiceblends.com