Your hair overwhelmingly influences how you feel and look. But it is a scantly attended part of our body. Our hair can be beautiful, healthy with all its bulk and thickness. But it has to be nourished, cleansed, and strengthened. Come 21st century and we have excessive physical or emotional stress, hormonal imbalances, nutritional deficiencies, allergies, use of wrong hair care products, poor hair care routine, hereditary, pollution, etc which badly affects hair.
[wp_ad_camp_1]
Here we are compiling a list of natural remedies which will help you get your thick long hair back. These natural remedies do not have any side effects and can be easily done at home.
Top Remedies
1. Circulation: For about 10 minutes a day, lie with your head down so that more blood comes to your scalp. Comb hair from the back of the neck toward the front to revitalize weakened roots of hairs that otherwise would fall.
[wp_ad_camp_4]
2. Onion juice: Onion juice that is massaged into the hair is also an effective natural remedy for hair growth. Use it at least once a week and leave it on your scalp and hair for about three hours.
3. Egg: Regular protein treatment is essential to enjoy stronger and thicker hair and there is nothing better than egg for this. Take one or two eggs according to the length of your hair and beat it properly. Now apply this egg on to your wet hair and allow it for sit for 5 to 10 minutes. Finally wash your hair with lukewarm water and your favorite shampoo. You can go for this protein treatment three to four times a week. Another option is to mix together the yolk of one egg with one tablespoon of any kind of hair oil and two tablespoon of water properly. Use this mixture to massage your scalp thoroughly. Follow this remedy once a week to enjoy thicker hair.
4. Coconut Milk: Coconut milk is among the richest sources of tissue-nourishing plant derivatives. Grind the grated coconut and squeeze it to remove its juice. Massaging coconut milk (juice) on the scalp can also help in the stopping hair fall.
5. Amla: The anti-inflammatory, antioxidant, anti-bacterial and the exfoliating properties present in Indian gooseberry can help a lot in maintaining a healthy scalp and better hair growth rate. Take one tablespoon of dried gooseberry and boil them in two tablespoons of coconut oil, strain the oil and use it to massage your scalp before going to bed. Next morning shampoo your hair as usual. Another option is to boil dried Indian gooseberry or powdered Indian gooseberry in water and leave the water overnight. You can use this water to rinse your hair. You can also take the Indian gooseberry fruit and its extract as a dietary supplement for healthy hair.
[wp_ad_camp_2]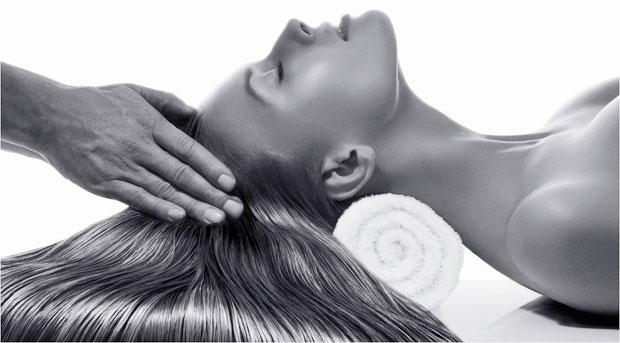 6. Neem: Neem is one of the most sought-after herbs on the country. It has many benefits, both health and beauty. And when it comes to beauty, it has some very effective hair benefits too.
Boil neem leaves in water until the water level falls to half its initial quantity and then cool it.
Rinse out your hair with the mixture once a week.
7. Olive Oil: Massaging the scalp for about half an hour with olive oil before going to bath is a good option to get thicker hair naturally. Finally you must rinse away the oil from your hair thoroughly by using a mild shampoo. For better result, you can apply olive oil into your hair before going to bed and wash your hair next morning. Another option is to mix olive oil with some honey and then apply the mixture on your hair, leave for half an hour and finally wash your hair.
8. Coconut Oil: Massaging your scalp regularly with virgin coconut oil is one of the easiest ways to get thicker hair naturally. For better result, it is recommended to heat the coconut oil and then only use it to massage your head and scalp. Always use your finger tips to massage the scalp in circular motions. This will help to improve the blood circulation which is essential to promote hair growth. Once you have applied the oil, cover your hair with a towel moistened with warm water. Leave for half an hour and then shampoo your hair as usual. Follow this remedy once a week to enjoy lustrous and thick hair.
9. Fenugreek Seed: Fenugreek seeds can also be used to prevent hair loss and to enjoy better hair growth. Take two to three tablespoons of fenugreek seeds and soak them in water for eight to ten hours. Make a fine paste out of the soaked fenugreek seeds and apply it onto your hair and scalp and allow it to sit for about half an hour before washing your hair properly with lukewarm water. When done regularly, this remedy will prevent dry scalp and help you to enjoy thicker hair. Another option is to rinse your hair with the water in which fenugreek seeds are soaked overnight. This will encourage hair growth and help you to get rid of dandruff.
10. Orange Juice: Orange can be used to get rid of dandruff and oily scalp and to develop thicker hair. Take orange peel and mash it to make a pulp. Use this pulp as a hair pack once in a week to promote hair growth. Another option is to mix equal amount of orange juice and apple puree together and then apply this mixture on your hair. After half an hour wash your hair with plain water. Follow this remedy once in a week and soon you will have longer and thicker hair. You can also make a mixture by adding equal amount of orange juice and olive oil and warm it. Apply this mixture on your hair and leave it for half an hour, and then wash your hair with water.
11. Aloe Vera: This is the most popular ingredient that is used for healthy hair. Extract the gel from one or two aloe vera leaves and rub the gel onto the scalp and allow it to sit for half an hour before rinsing your hair with lukewarm water. Another option is to mix the aloe vera gel with one egg and some brandy. Apply this mixture to your scalp and after ten to fifteen minutes shampoo your hair. Follow this remedy once a week to enjoy thicker and healthy hair. At the same time you can also consume one tablespoon of aloe vera juice daily on an empty stomach to enjoy better hair growth.
12. Flaxseed: The fatty acids present in flaxseed can also help in getting thicker hair naturally. Take three tablespoons of flaxseed and put them in a bowl of water for about five days. After five days, with the help of a cotton ball apply this solution directly onto the scalp. After ten minutes you must rinse it off with warm water. This soothing organic treatment will give you thicker hair within a few days. Even eating freshly ground flaxseeds can result in shiny and thicker hair.
13. Avocado: Make a mixture of mashed avocado and banana and use it to massage your scalp. Leave the mixture on your hair for about half an hour so that the nutrients present in the mixture get absorbed by the scalp. You must wash your hair thoroughly with shampoo and apply a conditioner. Once your hair becomes dry it will look healthy and thicker. You can also make a hydrating hair mask at home by adding two tablespoons of olive oil to half of a ripe mashed avocado. Apply this hair mask on freshly shampooed hair and allow it to sit for about twenty minutes. Finally rinse your hair thoroughly and apply some conditioner.
Hair Fall Preventive Packs
When hair fall is really severe, then a preventive hair pack is the way to go. Here are a few packs, you can try at home.
Pack 1:  Aloe vera mixed with herbal amla, shikakai and neem powder gives lustrous hair.
Pack 2:  Henna, egg whites and curds when used together stops hair fall.
Pack 3:  Honey, olive oil, cinnamon mixed together make for a soothing yet effective hair pack.
For a protein packed conditioner, mix eggs and yogurt and rub it into your scalp. Leave on for five or 10 minutes, and then wash it off completely.
A healthy lifestyle is the key to keep you fit overall. Eating the right amount, working out regularly, and keeping out of stress will control hair fall and keeps your hair healthy to a large extent. Also, give that privileged care to your hair by patiently following these natural remedies and enjoy the thick flowing hair and jealous looks!
[wp_ad_camp_3]
Image courtesy: lunar.thegamez.net , aalamsalon.com