The traditional medicine system of Ayurveda has been practiced since centuries in India. It insists on natural and highly potent ingredients to treat various illnesses and it causes no side effects.
[wp_ad_camp_1]
Ayurvedic beauty treatments have no match and it has effective treatments for all skin problems, just that you need to follow all the instructions prescribed properly. EHC brings out a list of natural face packs from ingredients that are used extensively in ayurvedic medicine.
Green Gram Face Pack
This face pack exfoliates dead skin cells and brightens up skin texture. Green gram is rich in vitamin A, C, etc. It also polishes skin. The turmeric lightens skin tone and clears tan. Take 2 tablespoons of green gram powder (dry it under the sun first), 1/2 tablespoon of turmeric, and 1 tablespoon of rice powder. Make a paste out of it by adding honey, curds, or milk, whichever ingredient suits you better. Apply and keep it on the face for 20 minutes before rinsing off to reveal smooth and soft skin.
[wp_ad_camp_4]
Herbal Face Pack
Ingredients are holy basil powder (tulsi) 2 teaspoons, neem powder 2 teaspoons, multani mitti 1 teaspoon, a few drops of lemon juice, a few drops of rose water, and a few drops of olive oil.
Mix all the ingredients to form a smooth paste. Cleanse your face with your face wash. Take facial steam for 3 minutes. Taking a facial steam before using face packs give double effects as steaming opens up the skin's pores and allow the ingredients to penetrate well on your skin. Now gently wipe your skin and apply the smooth paste over your face and neck evenly with fingers or with the use of the face pack brush. Allow the pack to work on your skin for 20 minutes. Now wet your fingers and gently scrub your face in circular motion for at least five minutes to remove all the dead skin cells and impurities to bring out your new fair skin. Wash off with clean and cold water. Pat dry.
[wp_ad_camp_2]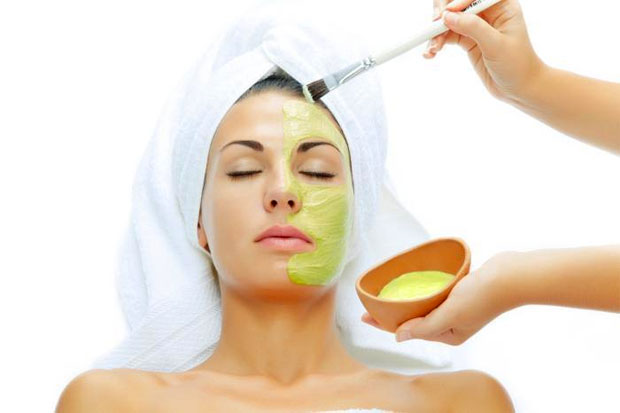 Sesame Seeds & Turmeric Face Pack
Sesame seeds are rich in anti-oxidants, vitamin E, minerals, and protein. It softens and moisturizes skin and can clear acne spots. It also has anti-bacterial, anti-fungal, and anti-inflammatory functions. Black sesame seeds are also used a lot in ayurvedic skin preparations. To make a face pack, take sesame seed oil and add in a few drops of apple cider vinegar and a bit of water and apply the solution to the face and wash off after 15 minutes for glowing skin.
Sandalwood & Rose Water Face Pack
Sandalwood is known as a magical ingredient in skin care. It is immensely soothing and contains antioxidants and anti-inflammatory agents. Sandalwood improves blood circulation. It works on a whole lot of skin issues including acne, dry skin. For glowing skin, make a face pack out of sandalwood powder, turmeric and rose water. If you do not want to include turmeric, you can just go ahead and mix sandalwood powder and rose water. This pack removes tan and acts as an antiseptic.
Neem & Honey Face Pack
Neem has anti-fungal, antibacterial, and antimicrobial properties. It is excellent to treat acne condition. Make a face pack with a paste of neem leaves, honey, and turmeric for acne-free skin.
Marigold & Rose Face Pack
Marigold flower has anti-bacterial and antiseptic properties. To make a face pack, you can make a paste from fresh flowers or dried flower petals and mix it up with rose water and apply on clean skin. This face pack rejuvenates and aids in cell regeneration. You can also make a fresh face pack with marigold and rose petals. Marigold flower contains antioxidants, flavonoids, and protects skin from damage.
Tangerine & Honey Face Pack
Both the pulp and peel of tangerine are extremely good for skin. It is high in vitamin A and C. Tangerine improves blood circulation, aids in cell regeneration, and acts against premature ageing.
Mint & Multani Mitti Face Pack
Mint is great for acne and cools and calms skin. Combined with multani mitti, it is a great face pack for acne prone and oily skin. Mix equal quantities of multani mitti and mint and apply on clean face, wash off after 20 minutes.
Pomegranate & Honey Face Pack
Pomegranate has anti-ageing and antioxidant properties. It is a rich source of vitamin C. Make a face pack of pomegranate and honey for glowing beautiful skin.
[wp_ad_camp_3]
Image courtesy: beautyramp.com , newlookspa.in