The best thing sprouts do is providing the natural enzymes and nutrients required for a healthy body. Used as a spice in Indian food and as a digestive aid by Americans, Fenugreek is a fragrant super-nutritious sprout.
[wp_ad_camp_1]
They have been long hailed has highly valuable in terms of their health benefits. They are easy to grow and have a flavor on the bitter side. Women who are lactating may benefit from the addition of fenugreek in the diet to stimulate milk production.
Fenugreek is part of the family Facacae and native to Middle Eastern countries. India is the largest producer of this legume. Fenugreek seeds, sprouts and leaves can be used. Fenugreek seeds are part of the Indian spice curry. The sprouts and leaves can be eaten as part of salads, stir fries or as a snack.
Fenugreek in any form is a treasure trove of medicinal properties. It is rich in vitamin C, proteins, fibers, niacin, potassium, iron and alkaloids. It is also rich in a compound called diosgenin which has estrogen-like properties and steroidal saponins. One teaspoon of fenugreek contains 12 calories, 0.85 g protein, 0.24 g fat, 0.9 g fiber, 7 mg calcium, 1.24 mg iron, 7 mg magnesium, 11 mg phosphorus and 28 mg potassium. Let's know more about these power-packed nutritious sprouts.
[wp_ad_camp_4]
Fights Diabetes and Heart Disorders
Fenugreek and the sprouted seeds have been studied to regulate insulin levels and slow down the rate of blood sugar absorption. People with Type II diabetes have been shown to have low levels of sugar in their blood after consuming fenugreek daily for up to 6 months. It is therefore considered helpful in controlling diabetes.
For those with heart conditions associated with high cholesterol, fenugreek sprouts naturally lower cholesterol. They contain lecithin and coenzyme Q10, which supports healthy cholesterol levels and increases HDL (high-density lipoprotein).
Anti-Viral
It is known to possess an ant-viral property which effectively helps to relieve symptoms of cold and sore throat and also helps to prevent both.
Lymphatic Cleanser
Fenugreek, unlike any other sprout, helps to induce sweating and perspiration by activating the lymphatic system. The sprouts are a diaphoretic, which helps to clean and detoxify this important system of the body that also carries oxygen and nutrients from your blood to your cells. Moving the lymph filters wastes and helps kill pathogens.
[wp_ad_camp_2]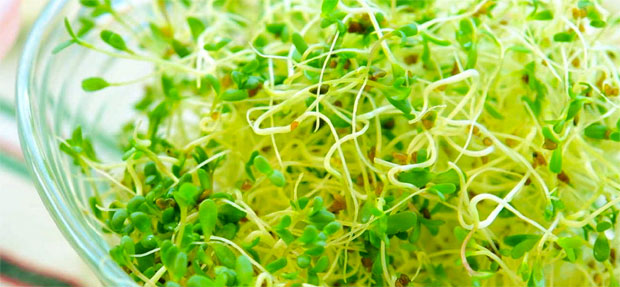 Fights Cancer
It is a rich source of antioxidants that combat free radicals in our bodies that create much damage to our cells hence also preventing certain cancers.
Aids in Digestion
According to Indian traditional medicinal practices, fenugreek has long been used to aid digestion and to treat gas, flatulence and diarrhea.
Beauty Ingredient
A rich source of antioxidants, fenugreek counters free radicals that damage skin cells to bring on early signs of aging hence consumption of fenugreek sprout can delay ageing signs like wrinkles, crow's feet, fine lines and pigmentation.
For Weight Loss
Research shows that consumption of fenugreek sprouts can help with weight loss. Rich in a polysaccharide known as galactomannan, it gives a feeling of fullness thus discouraging over eating. Fenugreek contains about 75% soluble fiber which also simulates a feeling of fullness hence fenugreek is a double action solution for weight watchers.
For Lactating Mothers
Fenugreek is an herbal galactagogou (a substance that boosts milk production} and lactating mothers in India stick to a daily dose of fenugreek as it is common knowledge that fenugreek boosts milk production.
For Sexual Health
In the ancient ayurvedic medicinal tradition, fenugreek is long known to boost libido and sexual performance. Recent research corroborates this fact.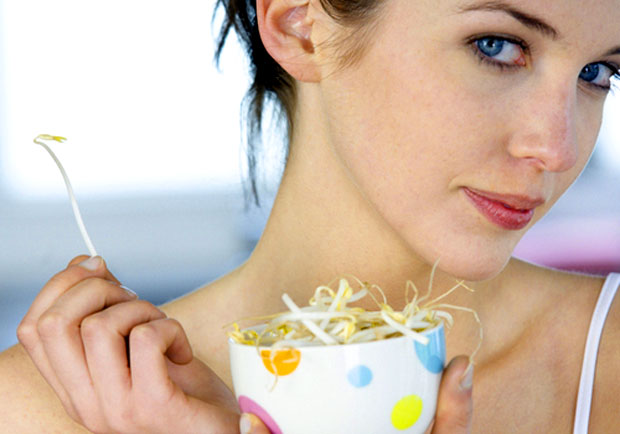 Sprouting Fenugreek
Place your fenugreek seed into a fine mesh colander covered with cheesecloth. Rinse the seeds under cool, running water and place them in a wide-mouthed glass jar. Cover the fenugreek with water and let them soak for 8 to 12 hours.
Rinse and drain the fenugreek and transfer it back to the jar. Do not cover them with water. Place a light, breathable cloth on top of the jar and leave it in a cool, semi-lit location.
Rinse and drain your sprouts every 8 to 12 hours for 3 days, or until they display 1/4-inch roots. Taste the sprouts each time you rinse to help you decide how you like them best, as the flavor will change over time. Rinse and drain the fenugreek. Place your sprouts in the refrigerator, where they should keep for 3 to 4 weeks. Store the sprouts in a cloth bag in refrigerator and use within 3-4 days.
Easy-To-Make Fenugreek Recipes
The fruity dressing
Ingredients are 1/2 cup papaya cubes, 1/4 cup thick low fat curds, beaten.
For the fruity dressing, blend all the ingredients together in a mixer till smooth. Refrigerate and use as required.
Combine all the salad ingredients together in a bowl. Refrigerate to chill. Just before serving, add the dressing and toss well. Serve immediately.
Sprouted methi salad
Ingredients are 1 cup sprouted fenugreek (methi) seeds, 10-15 chopped garlic (lehsun), 2 teaspoons of lemon juice, 1 teaspoon honey, 1 teaspoon peanuts powder, 1/2 cup chopped coriander (dhania), 1/4 cup finely chopped carrot, 1/4 cup cucumber, 1/4 cup tomatoes, 1 pinch of black peppercorns (kalimirch), and salt to taste.
Combine all the ingredients in a bowl and mix well. Serve chilled.
[wp_ad_camp_3]
Image courtesy: lifepressmagazin.com , ytimg.com , wellnesscafe.hu