Most people do not naturally have dazzling, snow-white teeth. The natural color varies, and teeth become discolored over time. They can yellow from normal chewing, which causes microscopic cracks over the years.
[wp_ad_camp_1]
According to the Consumer Guide to Dentistry, the cracks fill with debris from eating, and the teeth become dull and stained. Certain health problems can cause or worsen yellowing.
Teeth appear yellow when an underlying material called dentin shows through its white enamel covering, according to Texas dentist Martin Spiller. Each tooth's inner layer is made up of dentin, while the outer surface is composed of a porcelain-like material called enamel. The Consumer Guide to Dentistry explains enamel can crack, thin and wear, allowing the yellow dentin to show through. The enamel surface also can become discolored by diet, health problems and lifestyle factors.
[wp_ad_camp_4]
Causes of yellow teeth
1. Translucent Enamel
Thin, translucent enamel present naturally in a person can be a cause for yellow teeth. The outer most layers of our teeth are made of a hard substance which is the enamel. The layer present below the enamel is the dentin, which is naturally yellow in color. In some people, the enamel is extremely thin either naturally or due to teeth wear and tear which results in the dentin becoming visible through the enamel which imparts a yellowish tinge to the teeth. Conventional teeth whitening methods will not be effective for whitening yellow teeth due to this, as the dentin layer will be visible at all times. People commonly have translucent enamel because of one's natural genetic make-up.
2. Wear and Tear
Our teeth are prone to wear and tear as we grow older. No matter how much you take care of your teeth, teeth will show effects of wear and tear due to the natural aging process. The color of the foods and drinks you consume become imparted on the teeth and manifest as stains as they are able to seep in easily.  You can reduce the intake of color imparting foods and drinks to minimize this. Also, due to wear and tear of the enamel, the yellowish tinge of dentin becomes more prominent as we age.
3. Poor Consumption Habits or Poor Oral Hygiene
This is the most common cause of yellow teeth. When oral hygiene is neglected along with intake of color imparting foods and drinks, it tends to discolor the teeth. Deposits are formed on the teeth surface which further discolor the teeth and remain their due to lack of adequate oral hygiene.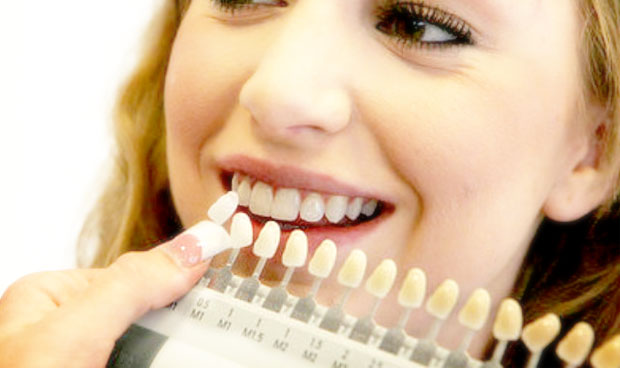 [wp_ad_camp_2]
Yellow teeth treatment
1. Improve your dental hygiene
Learn how to brush your teeth correctly and do it two times a day. Incorporate flossing as a part of your dental hygiene regimen. Rinse your mouth after meals and drinks. Do not snack in between meals.
2. Easy to Use tooth whitening Products
If you are concerned about your yellow teeth, tooth whitening products can be a boon to you. There are plenty of ways you can whiten your teeth depending on your needs and budget ranging for whitening chewing gums to tooth whitening trays and gels.
3. Professional Methods
The most effective tooth whitening method is the professional tooth whitening offered by dentists. Go for this if your teeth are genuinely discolored which is hindering your self-confidence. If you have a mild degree of discoloration, you can opt for the many in-house tooth whitening methods. Note that professional tooth whitening procedures are temporary and their effect will diminish over time. You can also go for veneers if you have issues with one or few teeth which will fix this permanently.
So, if you have yellow teeth-do not worry. Simply find the cause of yellow teeth and get it rectified by yellow teeth treatment specific to the cause.
Home remedies for teeth whitening
(1) Useful Herbs for Whitening of Teeth
1. Babul (Acacia arabica)
The importance of babul in whitening of teeth cannot be expressed in words. It is so much important in Ayurveda for this purpose that the ancient Indians used nothing but the twigs of the babul (the other tree used for this is neem) as disposable toothbrushes. The tannin present in babul is effective in increasing the whiteness of teeth.
2. Banyan (Ficus religiosa)
The aerial roots of the banyan can also be used as disposable toothbrushes. The banyan roots have astringent properties, which not only make the teeth whiter, but also make the teeth and gums healthier.
3. Holy Basil (Ocimum sanctum)
The leaves of the holy basil are dried in the sun and powdered and used for brushing teeth. The leaves help in maintaining dental hygiene and make the teeth whiter. Apart from the whitening properties, holy basil is also used for protection from problems such as pyorrhea (i.e. bleeding of gums).
4. Margosa (Azadirachtha indica)
The neem tree, or the margosa, is a traditional remedy for having white healthy teeth. Neem twigs are used by several Indians even today as toothbrushes. Neem oils contain astringent and antiseptic properties to fight bad breath, kill microorganisms accumulated on the teeth and to combat dental caries and cavities.
(2) Dietary Methods for Whitening of Teeth
In order to keep the teeth clean and white, pungent, bitter and astringent foods must be included in the daily diet. These tastes have an astringent effect on the teeth which helps to maintain them clean. They also take care of the excess buildup of plaque on the teeth, which makes them lose their pearly white color.
Sugary foods in any form are bad for the teeth. Chocolates are also not good. If you do consume such foods, you must remember to wash your mouth thoroughly with strong gargles so as not to leave any sweet residue in the mouth.
Avoid excess tea and coffee. These beverages contain strong alkaloids which can stain the teeth. The same is applicable to smoking. Almost every person who smokes will lose the white coloration of the teeth. Chewing of the paan (betel leaf), as is done in several Indian regions, is also disastrous to the whiteness of the teeth. This habit can stain the teeth cream, yellow or even a dirty shade of rust brown.
(3) Ayurvedic Methods for Whitening of Teeth
Ayurveda provides many kinds of toothpaste and toothbrushes for maintaining white healthy teeth. One of them is toothpaste made by mixing a paste of holy basil leaves with mustard oil. The neem and babul twigs are used as toothbrushes. They are rubbed vigorously on the teeth (sometimes with charcoal also) in order to remove all the plaque accumulated on the teeth and to make them whiter.
(4) Home Remedies for Whitening of Teeth
For teeth that have lost their white color, prepare a mixture of charcoal of babul wood, roasted alum and some rock salt. Rub this on the teeth instead of using the conventional toothpaste. You will have white and long-lasting healthy teeth.
You can try using sodium bicarbonate regularly each morning as a toothpowder instead of toothpaste. Sodium bicarbonate replenishes the lost mineral content of the teeth, which helps them to regain their whiteness.
Strawberries, tomatoes and amalaki contain good vitamin C content. These can be directly applied on the teeth. Vitamin C helps in removing the plaque on the teeth and makes them whiter.
Rub an orange peel on the teeth every night before going to sleep. The vitamin C of the orange peel will combat with the microorganisms all through the night.
Take adequate measures of dental hygiene. Brush your teeth after every meal, or at least in the morning and before going to bed. While brushing your teeth, take care to sweep out all the embedded food particles. This is the most natural way to keep your teeth white and healthy.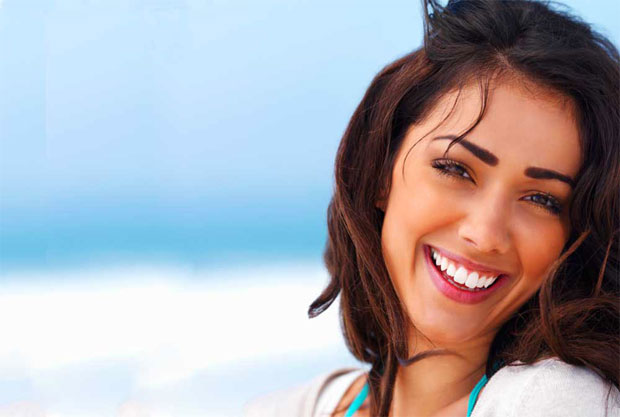 Do's and Don'ts of Teeth Whitening
Do
Brush and floss twice a day. Foods and drinks such as coffee, tea, fizzy drinks, soy sauce and curry all stain your teeth. Brushing and flossing removes much of the food and drink remnants that stain your teeth.
Eat lots of crunchy fruit and vegetables. Dr. Arthur Glosman, a cosmetic dentist in Beverly Hills, describes them as "nature's toothbrushes.(a)" Crunchy foods such as apples and carrots help to remove stains from your teeth.
Visit your dentist regularly. This is a good idea regardless, but a dentist can give your teeth a good polish, brilliant for a quick fix if you are trying to impress. Alternatively you can see a cosmetic dentist who uses a specialized gel to bleach your teeth. This is more effective but can be very expensive.
Did you know that most of the products you use everyday come in whitening versions. Be it toothbrushes, toothpaste,  or mouthwash.
Use home whitening kits for a cheaper alternative than going to a cosmetic dentist. These involve mouth guards that are similar to the ones you might have used during contact sport. You mould the guard to your mouth, then apply a whitening gel to the guard and place the guard in your mouth. To read more about home whitening kits, have a look at Adam's article also on this site
Don't
Avoid food and drinks that can stain your teeth, see above for examples. Also avoid acidic foods such as citrus fruits, wine and chocolate. Using a straw can limit your teeth's exposure to staining drinks.
Be careful when whitening teeth that have had work on them. Materials used in filings cannot be whitening and using a whitening product on these teeth may result in uneven whitening. Teeth whitening should only be used on live teeth and so is not appropriate for teeth that have had root canal treatment. (b)
Although there have been no studies in this area, many dentists recommend not using whitening produces during pregnancy or during lactation as it may harm the fetus/baby. Also whitening products should not be used on those under the age of 18.
Don't over use whitening products the peroxide used to bleach teeth opens up pores in the structure of your teeth exposing the sensitive dentin below. This means that over whitening can lead to sensitization of your teeth, particularly to hot and cold.
Don't go too white, just because the celebrities do, doesn't mean you should too!
[wp_ad_camp_3]
Image courtesy : goldencarla.typepad.com , wrpsolutions.co.uk , helotesdentist.com