We know garlic as a wonderful seasoning to add aroma and taste. We also know it has been used as a herb. Do you know it has amazing health benefits, is an excellent source of manganese, vitamin B6 & C, and selenium?
[wp_ad_camp_1]
The sulfur compounds in garlic are perhaps its most unique nutrients. A research conducted in the Washington University showed that garlic is up to 100 times more efficient than the most popular antibiotics used for different health conditions. EHC suggests you try this amazingly efficient garlic soup recipe which has the ability to enhance your immunity and boost up your energy levels.
Miracle Garlic Soup
The ingredients are 50 cleaned and peeled garlic cloves (about 5 garlic bulbs), 2 tablespoons of pastured butter (alternative ghee), 2 tablespoons of olive oil, 2 large and diced onions, 1 tablespoon of chopped fresh thyme, 8.5 oz/ 250 ml chicken broth (as a base), 1 bunch of fresh herbs, parsley, thyme, bay leaf; 3 cups diced stale bread (sprouted ezekiel bread), and 1 cup organic sour cream (alternatives organic cottage cheese / organic yogurt or goat yogurt / tofutti).
[wp_ad_camp_4]
Heat the oven to 180 °C. Cut off the top of the garlic bulbs, cover with some olive oil and wrap the garlic in a tin foil. Bake for 90 minutes, then let the garlic cool for a few minutes.
In the meantime, heat 2 tablespoons of olive oil and some butter in a saucepot, on medium temperature. Cook the onions for 10 minutes. Mash the baked garlic and add it in the saucepot. Stir well, add some chopped thyme, chicken broth and fresh herbs. Turn the temperature on low, add the bread and cook for 5 minutes, or until the bread cubes soften.
Take the herbs out of the saucepot and blend the mixture well, until you get a nice and creamy texture. Take the mixture back in the saucepot, and add some sour cream or double cream. Add salt and pepper to taste.
More healing soups…
[wp_ad_camp_2]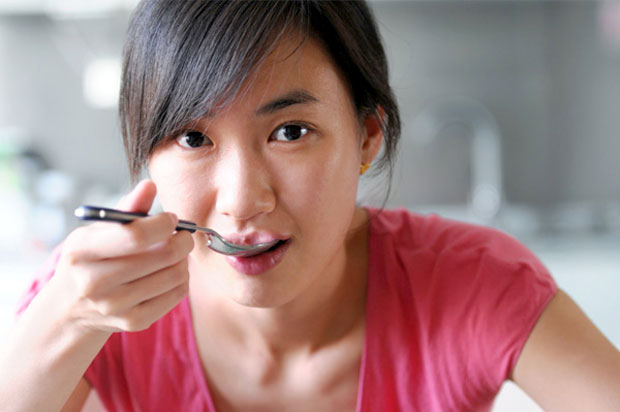 Immune-Boosting Soup
Your immune system needs a lot of minerals to function properly and the typical Western diet does not always hit the mark. Keep in mind that boiling can destroy half of the vitamins found in vegetables, so cook soup over a low heat.
Simmer these ingredients for 30 minutes to 1 hour – Cabbage, carrots, fresh ginger, onion, oregano, shiitake mushrooms (if dried, they must be soaked first), the seaweed of your choice, and any type of squash in chicken or vegetable stock. Cabbage can increase your body's ability to fight infection, ginger supports healthy digestion, and seaweed cleanses the body. Shiitake mushrooms contain coumarin, polysaccharides and sterols, as well as vitamins and minerals that increase your immune function; the remaining ingredients promote general health and wellbeing. Have this soup every other day to build a strong and healthy immune system.
Winter-Warmer Hearty Soup
You always want to eat for the season, and warm soup provides what the body craves in cold weather. When you simmer foods into a soup, you are adding a lot of what Chinese nutrition would call "warming energy" into the food. Warming foods to feature in your soups include leeks, onions, turnips, spinach, kale, broccoli, quinoa, yams, squash, garlic, scallions, and parsley. As a spice, turmeric aids with circulation, a great boost against the cold weather.
Detoxifying Broth
As a liquid, soup is already helping you flush waste from your body. When you choose detoxifying ingredients, such as the ones featured in the recipe below, you are really treating your body to an internal cleanse. This broth supports the liver in detoxification, increases circulation, reduces inflammation, and replenishes your body with essential minerals.
Simmer the following detoxifying foods for 1 to 2 hours over a low flame – anise, brussels sprouts, cabbage, Swiss chard, cilantro, collards, dandelion, fennel, garlic, fresh ginger, kale, leeks, shiitake mushrooms, mustard greens, daikon radish, seaweed, turmeric, and watercress. Strain to drink as a broth, or if you prefer, leave the cut vegetables intact and enjoy a bowl.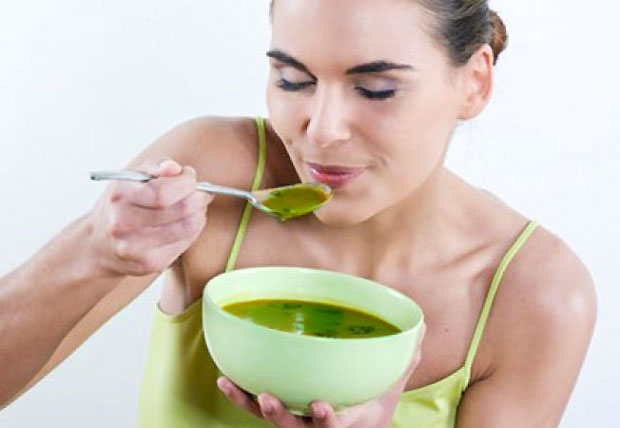 Green Soup Recipe
The ingredients are i tablespoon of olive oil or ghee, 2 cloves of garlic chopped, 1 inch of fresh ginger peeled and chopped, 4 cups fresh zucchini (can use broccoli, cauliflower, or any seasonal vegetable), 1 pound of fresh spinach leaves (can use any leafy greens: arugula, kale), a handful of fresh cilantro roughly chopped, 4 cups water or nondairy milk, 2 teaspoons of curry powder, sea salt, fresh lime juice and pepper to taste. Flaxseed crackers, quinoa salad, or good quality whole grain bread to garnish.
Heat the ghee or olive oil in a large pot over medium heat. Add garlic and chopped ginger, stirring, until translucent. Add the curry powder and salt to taste. Cook for 1 minute. Add the zucchini and stir to mix well. Add enough water to cover the zucchini; bring to a boil and simmer for 10 minutes, or until the zucchini is just tender. Using a blender or food processor, purée the zucchini mixture with spinach, cilantro, water or nondairy milk, and hemp seeds. Add more hot water if the soup is too thick. Transfer back to the pot and bring to a simmer and season with black pepper and a squeeze of lime juice. Serve over crumbled flaxseed crackers or top with quinoa salad.
For maximum flavor and nutritional benefits, always purchase fresh garlic. Avoid garlic that is soft, shriveled, and moldy or that has begun to sprout. These may be indications of decay that will cause inferior flavor and texture.
[wp_ad_camp_3]
Image courtesy: all4women.co.za , sheknows.com , machteamsoft.ro