Size truly doesn't matter! Let's not be fooled by the size and looks of the dark, wrinkly, dried appearance. Do you know the raisins are considered as nature's alternative to candies? So, the next time you crave for your favorite chocolate, try eating raisins instead. You would be surprised at the multitude of health benefits the tiny raisins offer.
[wp_ad_camp_1]
Raisins are dried grapes. They are sweet and are among the most loved dry fruits.
Raisins increase your supply of energy, promote absorption of vitamins and other nutrients, build immune system, aid in digestion, enhance bone health, treat infections, stimulate sexuality, and prevent cancer. Phew.. What else you need!
This modest-looking dry fruit is found to be very effective in the treatment of gastrointestinal complaints, specifically constipation. More research revealed that certain substances in raisins have beneficial effects on practically every system in the body. Indeed, raisins have come to be known as a healthy snack food.
[wp_ad_camp_4]
Nutritional Capacity
Raisins contain a great deal of vitamins and minerals and this makes their nutritional value high. Given below are some nutritional facts. Research has shown that raisins are good for bone density. Studies show that they lower the risk of osteoporosis in women. Raisins have no cholesterol and no fat. One cup of raisins has about 130 calories. The nutrients in 100 grams of raisins include:
Energy: 229 kcal
Sugar: 59 g
Dietary fiber: 4 g
Carbohydrates: 79 g
Calcium: 50 mg
Iron: 1.88 mg
Proteins: 3 g
Potassium: 750 mg
Sodium: 11 mg
Fat: 0.5 g
[wp_ad_camp_2]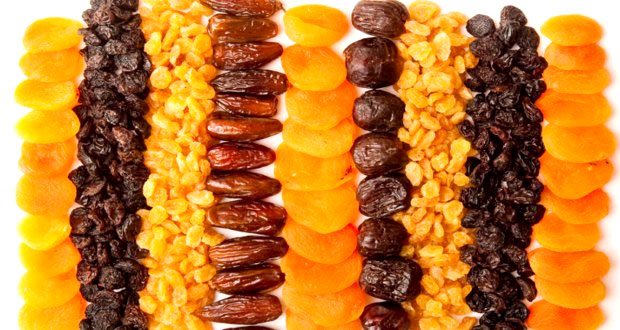 Health Benefits
1. Aids in Digestion
Having a few raisins every day is good for your stomach. Raisins contain fibers that start to swell in the presence of water. This gives the stomach a laxative effect and helps to relieve constipation. Also daily intake of raisins keeps the bowel movement regular and the fibers help to keep toxins and waste products out of the system.
2. Reduces Acidity 
Raisins contain potassium and magnesium in good levels. Thus these help reduce acidity and helps remove the toxins from the system preventing diseases like arthritis, gout, kidney stones and heart diseases.
3. For the Eyes
Raisins are found to be rich in polyphenolic phytonutrients which is an antioxidant that helps in keeping your eyesight strong. The antioxidants in raisins help in protecting the eyes by reducing the free radical action that weakens vision and causes muscular degeneration as well as cataract. Also as raisins have vitamin A, beta carotene and A-carotenoid, it is super good for the eyes.
4. Mouth and Dental Care
Raisins contain oleanolic acid which is one of the phytochemicals which is essential to keep your teeth safe from decay, cavities as well as brittle teeth. Raisins prevent the growth of bacteria in the mouth to keep teeth in good shape. As they contain calcium in good quantities, they also prevent the teeth from peeling away or breakage. Also the boron present in raisins is good for preventing germ build-up in the mouth.
5. For Weight Management
If you are desperately trying to gain weight, then raisin is your best friend. Raisins are rich in fructose as well as glucose and give you loads of energy as well as help you gain weight without accumulating bad cholesterol.
6. For Good Bones
Raisins also contain good amounts of calcium which is good for bone health. They keep you out of arthritis and gout.
7. Increases Your Supply of Energy
If you are an athlete or a bodybuilder who needs a good source of energy and something to bulk up your body to a certain weight, raisins are good for you because they are loaded with sugars, specifically fructose and glucose. They promote efficient absorption of vitamins, proteins and other nutrients in your body and help in building up your immune system.
8. Good for Kidney and Liver
It is a well known fact that foods rich in potassium will prevent both kidney stones from forming as well as prevent them from recurring. Raisins are rich in potassium and consuming them regularly will help to prevent kidney stones. This is the reason why eating raisins for kidney stones are recommended.
9. Treats Anemia
Raisins have a good amount of iron as well as B-complex vitamins in them which help to treat anemia. The copper present in raisins also helps in the production of red blood cells.
10. Helps Prevent Cancer
An antioxidant named catechin present in raisins helps to protect against the free radical activity that can cause tumors and colon cancer.
11. Helps Treat Infections
Raisins have a substance named polyphenolic phytonutrients which is well known as an anti-inflammatory anti-oxidant. It contains anti-bacterial properties which helps lower the risk of fever and kills the bacteria. Thus having a few raisins a day can keep you safe from cold and other such infections.
12. Helps Reduce Sexual Weakness
Consumption of raisins is also good for your sex life. Raisins contain an amino acid named arginine which increases libido and induces arousal. It is used to treat erectile dysfunction. Also the added energy of raisins helps your conjugal life. Remember the tradition in India where the new bride and groom are given a glass of milk boiled with raisins and saffron. This is an age old practice that validates its effectiveness.
13. Reduces Cholesterol Level
Studies have shown that eating raisins for reducing levels of cholesterol is helpful. This is due to the fact that raisins contain soluble fiber. This soluble fiber helps to lower low density lipoprotein. Raisins also contain polyphenols which help to lower the cholesterol levels in the body.
14. Protects Heart
Research has shown that regular consumption of raisins helps to protect against heart disease. Raisins help to lower cholesterol and therefore help to prevent cardiovascular disease. Lowering the cholesterol level as well as triglyceride levels helps to improve the overall health of the heart and thereby reducing the risk of getting certain heart related conditions such as strokes, hypertension, or even heart attack.
Warning
Action in Diabetics:  Doctors may not advise raisins in the diet for diabetic patients, as raisins contain more concentration of sugar. Consumption of raisins may therefore lead to higher blood sugar levels in diabetics, which is not healthy for them.
[wp_ad_camp_3]
Image courtesy: abcraisins.com , health.india.com