6. Thick, yellow, downright ugly toenails
A fungal infection may be running rampant below the surface of the nail. Onychomycosis can persist painlessly for years. By the time it's visibly unattractive, the infection is advanced and can spread to all toenails and even fingernails.
[wp_ad_camp_1]
The nails may also smell bad and turn dark. People most vulnerable: those with diabetes, circulatory trouble, or immune-deficiency disorders (like rheumatoid arthritis). This condition is also relatively common in older people, and often causes problems in walking, since as infected nails grow thicker, they're harder to cut and simply go ignored to the point of pain.
[wp_ad_camp_4]
See a foot specialist or your regular physician for care and treatment. In serious cases, over-the-counter antifungals are usually not as effective as a combination of topical and oral medications and the professional removal of diseased bits. Newer-generation oral antifungal medications tend to have fewer side effects than older ones.
[wp_ad_camp_2]

7. A suddenly enlarged, scary-looking big toe
Probably gout. Yes, that old-fashioned-sounding disease is still very much around — and you don't have to be over 65 to get it. Gout is a form of arthritis (also called "gouty arthritis") that's usually caused by too much uric acid, a natural substance. The built-up uric acid forms needlelike crystals, especially at low body temperatures. And the coolest part of the body, farthest from the heart, happens to be the big toe."Three-fourths of the time, you wake up with a red-hot swollen toe joint as the first presentation of gout," says podiatrist Andersen.
Osteoarthritis is another culprit that causes pain and swelling.
Swelling and shiny red or purplish skin — along with a sensation of heat and pain — can also occur in the instep, the Achilles tendon, the knees, and the elbows. Anyone can develop gout, though men in their 40s and 50s are especially prone. Women with gout tend to be postmenopausal.
See a doctor about controlling the causes of gout through diet or medication. A foot specialist can help relieve pain and preserve function.
8. Numbness in both feet
Being unable to "feel" your feet or having a heavy pins-and-needles sensation is a hallmark of peripheral neuropathy, or damage to the peripheral nervous system. That's the body's way of transmitting information from the brain and spinal cord to the entire rest of the body. Peripheral neuropathy has many causes, but the top two are diabetes and alcohol abuse (current or past). Chemotherapy is another common cause.
The tingling or burning can also appear in hands and may gradually spread up to arms and legs. The reduced sensation may make it feel like you're constantly wearing heavy socks or gloves.
See a physician to try to pinpoint the cause (especially if alcohol addiction doesn't apply). There's no cure for peripheral neuropathy, but medications from pain relievers to antidepressants can treat symptoms.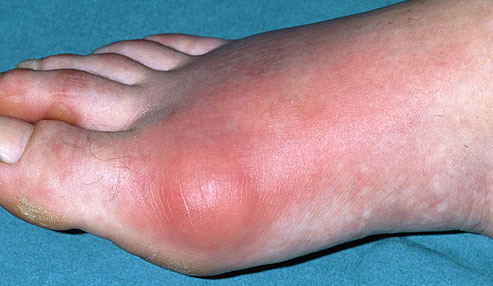 9. Sore toe joints
Rheumatoid arthritis (RA), a degenerative joint disease, is often first felt in the smaller joints, such as the toes and the knuckles of the hands.
Swelling and stiffness usually accompany the aches. This pain tends to be symmetrical; for example, it happens simultaneously in both big toes or in both index fingers. RA develops more suddenly than degenerative arthritis, and attacks may come and go. Women are almost four times more affected than men.
A full workup is always needed to pinpoint the cause of any joint pain. For RA, there are many medications and therapies that can minimize pain and preserve function, though early diagnosis is important to avoid permanent deformity. (In the feet, the toes can drift to the side.)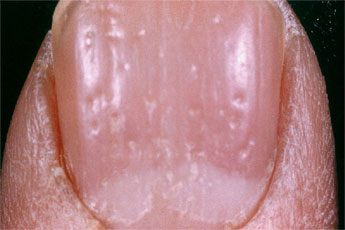 10 . Pitted toenails
In up to half of all people with psoriasis, the skin disease also shows up in the nail as many little holes, which can be deep or shallow. More than three-fourths of those with psoriatic arthritis, a related disorder that affects the joints as well as the skin, also have pocked, pitted nails.
The nails (fingers as well as toes) will also thicken. They may be yellow-brown or have salmon-colored patches. The knuckle nearest the nail is also likely to be dry, red, and inflamed.
A variety of medications can treat both psoriasis and psoriatic arthritis and can restore the nail bed surface in many cases, especially if treatment begins early.
11. Being unable to raise the foot upward from the heel
"Foot drop" (also "drop foot") signals nerve or muscle damage that can originate well north of your feet — as far as your back or even shoulder or neck. Certain chemotherapy drugs can also cause trouble lifting the front part of the foot while walking or standing.
There may be pain and numbness as well, though not necessarily. Sometimes the pain is felt in the upper leg or lower spine, where a nerve is pinched (by damage or a tumor). In many cases, the foot drags when the person walks, sometimes causing him or her to have to hike up the knee and hip with each step. It's rare for both feet to be affected.
Report this serious symptom to your doctor. Foot drop can be completely reversible or permanent, depending on its cause and treatment. Wearing a brace to keep the foot from flopping is often recommended, in order to prevent back and hip pain caused by hiking up a floppy foot.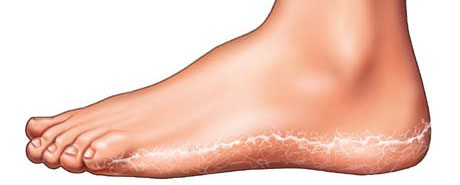 12. Dry, flaky skin
Even if your face or hands tend to be powdery-dry, don't dismiss this skin condition on your feet. You don't have to be a jock to contract athlete's foot, a fungal infection that usually starts as dry, itchy skin that then progresses to inflammation and blisters. When blisters break, the infection spreads.
(The name comes from the moist places the fungus thrives — places athletes tend to congregate, such as locker rooms and pools.)
Athlete's foot usually shows up between the toes first. It can spread to the soles and even to other parts of the body (like the underarms or groin), usually due to scratching.
Mild cases can be self-treated by bathing the feet often and drying them thoroughly. Then keep the feet dry, including using foot powder in shoes and socks. If there's no improvement in two weeks or the infection worsens, a doctor can prescribe topical or oral antifungal medication.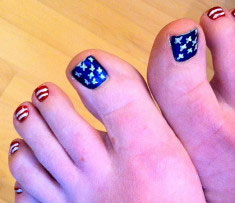 13. Red, White, and Blue Toes
In cold weather, Raynaud's disease (or Raynaud's phenomenon) causes the extremities to first go white, then turn blue, and finally appear red before returning to a natural hue. The cause is a sudden narrowing of the arteries, called vasospasms. Stress or changes in temperature can trigger vasospasms, which usually don't lead to other health concerns. Raynaud's may also be related to rheumatoid arthritis, Sjögren's disease, or thyroid problems.
Other commonly affected areas include the fingers, nose, lips, and ear lobes. They also feel cool to the touch and go numb. Women and those who live in colder climates get Raynaud's more often. It typically shows up before age 25 or after 40. Stress can trigger Raynaud's attacks, too.
See a doctor for further evaluation. Raynaud's is usually uncomfortable but not dangerous. However, in a minority of people, Raynaud's is a sign of an underlying autoimmune disease that may benefit from treatment. All people suffering from Raynaud's can benefit by learning basic non-drug techniques to keep the extremities warm, and to reverse an attack of vasospasm. In some cases the doctor may recommend a medication that can widen blood vessels, which reduces the severity of attacks.
14 . Feet that are really painful to walk on
Undiagnosed stress fractures are a common cause of foot pain. The discomfort can be felt along the sides of the feet, in the soles, or "all over." These fractures — they often occur repeatedly — may be caused by another underlying problem, often osteopenia (a decrease in optimum bone density, especially in women over age 50) or some kind of malnutrition, including a vitamin D deficiency, a problem absorbing calcium, or anorexia.
The weakened bones of osteoporosis increase your risk.
Often you can still walk on the broken bones; it just hurts like heck. (Some hardy people have gone undiagnosed for as long as a year.)
See a foot doctor about any pain. If, for example, you've been walking around Europe for three weeks in bad shoes, your feet may simply be sore. But a 55-year-old sedentary woman with painful feet may need a bone-density exam. An X-ray can also reveal possible nutritional issues that warrant a referral to a primary care provider.
[wp_ad_camp_3]