Multani Mitti refers to any clay material that has the capability to decolorize oil or other liquids without chemical treatment. It also known as Fuller's Earth and has cosmetic benefits for the skin.
[wp_ad_camp_1]
It is a skin purifier and cleanser and has magnesium chloride content which helps to reduce acne and blemishes from the skin. It generally is suitable for every skin type. There are many homemade packs which can be made using Fuller's Earth, curd, cream, lemon, rose water, etc., to improve skin color and texture. It is considered as the cheapest skin cosmetic available.
Fuller's Earth has a lot of benefits even though it is not very costly.
Benefits of Multani Mitti
Multani mitti masks are very effective in making your skin glow as well as improving the texture of the skin. It also makes it radiant by removing acne and blemishes to a great degree.
[wp_ad_camp_4]
It is well capable of removing all the impurities from your skin so that your pores are not clogged anymore and thus prepares your face for serum or cream application.
Multani mitti has a rich content of magnesium chloride which helps in the reduction of acne and blemishes.
It is very good for oily skin as it absorbs the excess oil thereby reducing the chances of new pimples.
Its healing properties reduce redness. Using it regularly will further relieve the skin from acne scars and inflammation.
You can get rid of whiteheads and blackheads naturally with multani mitti.
It is very safe to use as it does not have any side-effects.
Face Packs
If you want to get rid of acne on your face, make a paste consisting multani mitti, neem, camphor (kapur) and rose water. Apply it once a week to get good results.
To remove blemish and pimple marks, mix multani mitti with some freshly squeezed tomato juice. Add a hint of sandalwood powder and turmeric to it and apply the pack on your face.
[wp_ad_camp_2]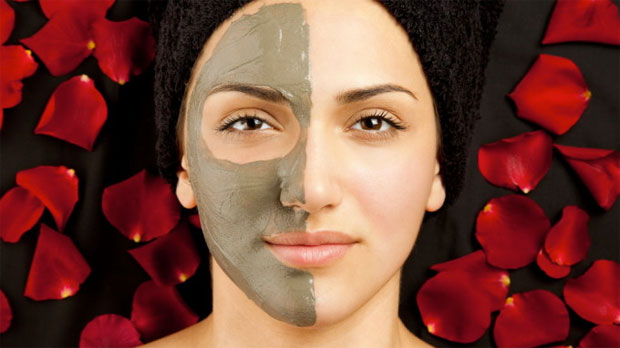 If you have dark spots, add yoghurt and mint (pudina) leaves in multani mitti, make a paste and apply it on the spots for half an hour before rinsing it off with lukewarm water.
Even if you do not suffer skin problems like acne or scars, apply multani mitti mixed with some essential oil. This will make your skin smoother and supple and add a glow to it.
If you have oily skin, make a paste of multani mitti and rose water with a pinch of turmeric in it – the paste should be thin in consistency. Apply it on your face and neck area, avoiding the area around the eyes. Leave it to dry and then rinse it off with water. Remember, do not talk or make too many facial movements after you apply any face pack.
If your skin is normal to dry, mix ground almond paste and replace the rose water with milk in the face pack.
For glowing skin – Paste of two spoons of multani mitti, tomato juice and some sandalwood powder will help reduce the facial spots. For extra glow, just add a dash of turmeric powder to it and apply on face for 10 minutes before rinsing it with warm water. Use this multani mitti face pack for glowing skin regularly.
For radiant skin – Mix multani mitti powder, tomato juice, one teaspoon honey, lemon juice and little milk. Apply on face and leave it on for 10 minutes. Use regularly to achieve desired results.
To get rid of dark patches – Mix a pack of one tablespoon each of multani mitti, mint leaves powder and yoghurt. Apply on affected areas for 20 minutes and rinse off using warm water.
Treat pigmented skin – Make a facemask by mixing multani mitti with some carrot pulp and teaspoon of olive oil to treat pigmented skin.
Multani Mitti and Honey Face Pack
Ingredients: Two tablespoons multani mitti, 1-1/2 tablespoon honey, rose water if needed to make it a smooth paste.
This face pack not only absorbs excess oil off the face, it gives a bright complexion too. A quick fix if you have to attend an important function. Mix all the ingredients together to make a paste. You can also add rose water to bring the paste to a desired consistency. Apply it on the face and neck and leave it for 20 minutes, rinse off.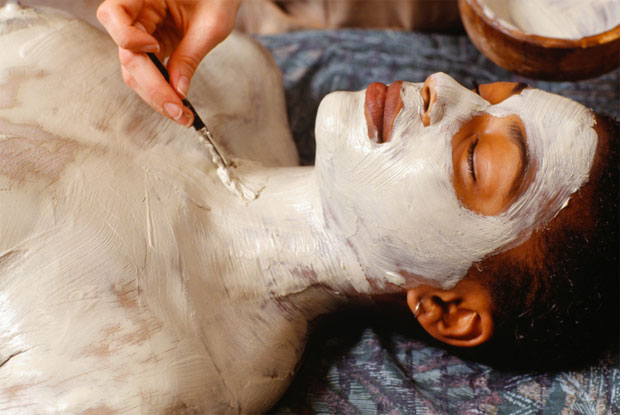 Multani Mitti and Sandalwood Face Pack
Ingredients: Two tablespoons multani mitti, 1 tablespoon besan, 2 tablespoons sandalwood powder.
Mix all the ingredients together and apply on face and neck, keep for 15 minutes and rinse off. Use twice a week to get glowing skin and to get rid of pimples.
Multani Mitti and Turmeric Face Pack
Ingredients: Two tablespoons multani mitti, 1 tablespoon turmeric, 2 tablespoons honey.
Mix multani mitti and turmeric together. Pour in honey to bring it up to a nice consistency. Apply it on the face and neck and rinse off with cold water. Within a few uses, you will notice your complexion getting brighter and lesser breakouts.
Multani Mitti and Potato Face Pack
Ingredients: A medium-sized potato, rose water, and multani mitti.
Potatoes are loaded with vitamin C, B complex, and minerals and they are good for skin. Cut the washed potatoes into small pieces. Grind it into a paste. Add 3 to 4 tablespoons of multani mitti. You can add rose water to make it to the desired consistency. Apply it on the face and keep it for 20 minutes. Wash off and get squeaky clean skin.
Generally, you may use all of the natural facemask ingredients along with multani mitti and get a super-charged facemask. Go ahead and make your facemask with multani mitti.
[wp_ad_camp_3]
Image courtesy: tqn.com , balanceforlife.us , ioneblackdoctor.wordpress.com