We know that it is almost impossible to know a woman completely. EHC's research team has found out a similar situation with men. If you like to take a trip to your man's mind, you are reading the right material.
[wp_ad_camp_1]
It is not overwhelming to know that he is keeping some secrets from you. It's not that any of these things would hurt you if you knew. It is just that men love to keep secrets and these ones might just get misinterpreted if you knew them. Ladies, sometimes ignorance is bliss.But since this article deals with your man's innermost thoughts, go ahead and read on to know more about them.
He still watches adult only films
May be not all the time, maybe he is not an addict. But he watches adult only films and he enjoys it and he does this once in a while. Thing is he won't let you know so you don't think for some reason he prefers the woman in the video to you or that he wants you to go all the way like her. But he enjoys watching it all the same.He wouldn't mind for you both to see it together sometime, I mean to put you in the mood if you are the kind that gets pleasure by this films. But don't think he is going to suggest it.
[wp_ad_camp_4]
He checks out other women
Yes. Men do it sometimes. He might not be so excited about their intelligence, but believes that the right booty deserves to be checked out every once in a while.Of course this doesn't mean he would replace them with you if he has the chance. It only means he checks hot women out.His attention span for another woman's plunging neckline or short skirt is as short as his brief. But he wouldn't let you know this because he knows he might be suspended from getting boyfriend/husband benefits for a while, so he would keep this piece of information from you.
He cringes at the amount of make up you use
He doesn't mind you getting dolled up and looking all glam, its just that he wishes you wouldn't use that much lipstick or that much eyeshadow. Yes, he loves make up, he just doesn't love that much make up.He knows mentioning this might hurt your feelings and that is why he would keep this secret for as long as you stay his.
[wp_ad_camp_2]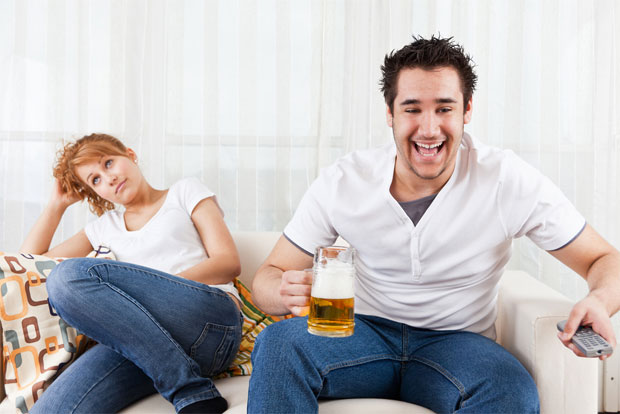 He likes his free time alone
Men cherish the time they get alone to be boys every once in a while and so would not mind for you to give him that time every once in a while.
He wants the compliment as much you do
Most women assume they are the only ones who need to be told they look beautiful. But how about the man you are with? Men long for compliments sometimes and they might not tell you because men don't roll like that, but they would really appreciate it if you mentioned once in a while.
He gets nervous about bed play too
You are not the only one wondering if you look sensual enough for him when you undress, he has his insecurities also and he is hoping that he pleases you. He doesn't want to come early, especially if this is his first time and he doesn't want you to feel like it was horrible.
He does not want to lose you
No, you are not the only one who doesn't want to lose him. He doesn't too. And he might not show it like you show yours, but deep down, he is hoping you would never ever walk out on what you guys share.
Sometimes he is just not in the mood
Yeah, believe it. Guys aren't always horny. Sometimes, he is bloated, tired, or stressed. But he will still go through the motions if he is in the mood. So if his performance is occasionally off, this might be to blame.
Money first
Another secret men keep from women is that their first priority is money. Many women do not like this since they feel they should come first. But, you should know that men want to earn money to take care of their women.
No matter what they hide and the secrets they have, loving enough and understanding the person will keep your relationship happy and strong. Happy loving.
[wp_ad_camp_3]
Image courtesy: perlbal.hi-pi.com , adoptingjames.wordpress.com