Hard water is water that has a high mineral content, especially calcium and magnesium. While there are no health hazards, hard water can cause serious problems to your hair and skin.
[wp_ad_camp_1]
After many washing, minerals dissolved in the hard water create a scaly film on the hair. This prevents the moisture from entering the hair. The result is dry, dull, and strange colored hair. Hard water can also cause build up on the scalp, causing a dandruff-like condition to form. It can also lead to hair loss.
But EHC reaffirms you that hard water need not ruin your hair. Read on to save your hair from the effects of hard water. First, let's look at the effects of different minerals present in the hard water.
[wp_ad_camp_4]
Calcium makes the hair seem heavy and the scalp often seems flaky. It is not just bits of skin that are coming loose but the calcium slowly becoming unstuck. Iron leaves it feeling brittle and dry. Split ends appear and the hair will need to be trimmed on a regular basis. The discoloration comes from copper and it can also cause discoloration and pull down curls. Magnesium seems to combine all the problems of the others. It makes curls drop, leaves the hair dry and takes away the shine.
There are many easy natural home remedies you may try to regain your hair health.
Vinegar
The acidity of vinegar works to remove scaly build up from your hair. The preference is apple cider vinegar (do not use balsamic vinegar). Mix 1 tablespoon of vinegar to 3 cups of water. After shampooing, massage this mixture on to your hair. Leave it for couple of minutes and rinse it off. Vinegar rinse also increases shine and gives body to limp hair. Use it once a week, as every day use will make your hair dry.
Lemon
Fresh lemon/lime juice makes a very good rinse for those with oily hair. To make lemon rinse, take 1 tablespoon of lemon juice and add 3 cups of water, and mix well. Apply this rinse to your scalp and hair after shampooing, and let it sit for couple of minutes before rinsing off. Along with adding shine and luster to your hair, the antiseptic properties of lemon help with dandruff.
[wp_ad_camp_2]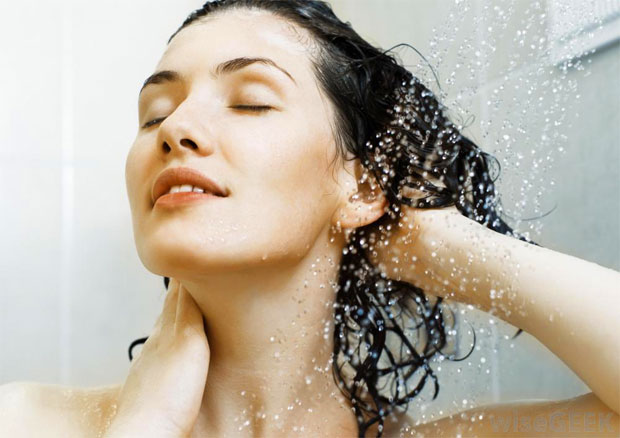 Water softener
A water softener is a great, but expensive way to solve your hard water worries. It removes calcium and magnesium and certain other metals from the hard water, making the water soft. While installing a water softener is expensive, it may be extremely useful for people experiencing hair problems, eczema and other hard water related conditions.
Coconut/Almond oil
After washing your hair always apply a natural leave-in conditioner like coconut oil or almond oil. This will lock in moisture and make your hair look shiny and healthy. Apply 2 to 3 drops to the lower half of your hair. Be careful not to use too much as this can make your hair greasy.
Deep Conditioning
Unfortunately, the hard water makes the hair much like straw. So, deep conditioning treatments are very important. Invest in salon range products for regular usage and go for egg and yogurt treatments once a week, if possible. Also, a monthly hair spa does help, provided you can afford it. Also, make sure, you are doing hot oil treatment regularly.
Shower filter
Shower filter is a cheaper alternative to water softener. It can considerably reduce lime scale, chlorine and many other chemicals from hard water. There are many different types of shower filter that attach to your shower unit. You can buy these online or in home stores.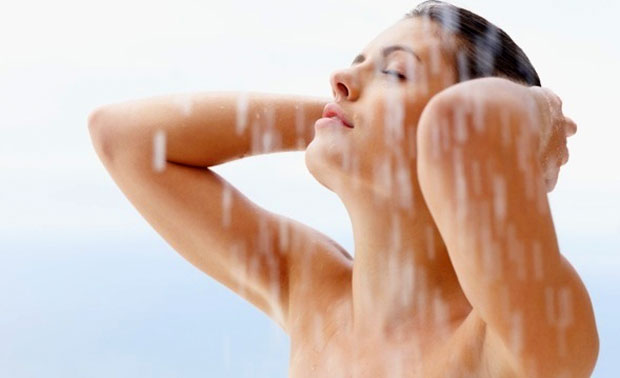 Bottled water
Another option is to use bottled mineral/spring water for final rinse. You will need about a liter of water for final rinse. Although not that expensive, but you will have plastic bottles piling up. This can be a temp solution especially if your hair is giving you a hard time, or when you are visiting hard water area for a short period of time.
Rainwater
Rainwater is a good substitute to hard water when washing your hair. Place a large bucket outside during rainfalls, collecting as much of the liquid as possible. When it is time to take a bath or shower, heat the water in batches in large pot on the stove to medium heat, and use while bathing.
[wp_ad_camp_3]
Image courtesy: dailywt.com , dudettestalk.wordpress.com , thecalmspace.com