Modern lifestyle has wrapped human beings with different kinds of clothes to protect themselves from sun, rain, and other forms of exposure hazards, to a certain extent.
[wp_ad_camp_1]
However, in most of the styles of clothing, hands and feet are left uncovered. This could be due to the necessity to constantly work with them. But because of this, the skin on your hands and feet remains exposed. The skin on your feet can get darker because of friction inside your shoes, and the most common reason for darker skin on your hands is prolonged exposure to UV radiation without proper protection. If you want to lighten the skin on your hands and feet, it is advisable to stick to a good skin care routine involving natural remedies.
Moisturize
Dry skin can be slightly darker than skin that is getting the proper moisture on a regular basis. Your first step to lighten skin on hands and feet is to make sure you are moisturizing correctly.
[wp_ad_camp_4]
If you feel the skin on your hands is tight, it is a sign of dryness, so start keeping hand lotion around at all times. If you have cracked heels, then your feet might need a deep moisturizer like petroleum jelly. For very dry skin, moisturize your feet with petroleum jelly before you go to bed and make sure you are wearing socks that won't allow it to stain your sheets.
Exfoliate
You don't need to do it weekly, but twice a month is a good idea. You can use simple homemade scrubs (with oatmeal and olive oil or brown sugar and honey) or go for chemical exfoliation (with alpha hydroxy acids or AHAs). Pay extra attention to any areas that are constantly rubbing against hard surfaces: heels, toes, and the skin on your fingers that is rubbing against rings and other jewelry on a regular basis.
Lemon Juice
Lemon is great for curing sun tanned skin due to its natural bleaching properties. You can simply apply some fresh lemon juice on the affected skin area and allow it to dry before washing the area with water.
Yogurt
Yogurt is very effective in minimizing a sun tan as it cools the skin as well as reduces redness and tightens the pores. Take a cup of plain yogurt and add the juice of one cucumber and one tomato. Add half a cup of gram flour (besan). Apply it on your face and neck. Leave it on for 30-45 minutes and then rinse off with lukewarm water.
Aloe Vera
Aloe vera gel will lighten the skin within a week, if applied daily to the affected area. It also helps cleanse and nourish the skin. Apply fresh aloe vera gel on the affected skin areas before going to bed. In the morning, wash the skin thoroughly.
Potato
Raw potato is an excellent remedy for sun tanned skin. Surprisingly, it is rich in vitamin C and hence, works as natural bleach. It also helps soothe sunburn. Peel the skin off two to three medium-sized potatoes, cut them into chunks and put them in a blender to make a paste. Apply the paste generously all over the affected skin area. Let it dry for about 30 minutes and then wash it off with cold water.
Gram Flour
Gram flour helps remove dead skin cells and leaves your skin bright and young. You can use the gram flour powder available in market or make a paste of whole green gram. Mix the gram flour in water and rub it all over the affected skin area. Wait 20 minutes before washing if off with water.
Cucumber
Cucumber juice also helps reduce a sun tan. Cucumbers have a cooling effect that soothes the skin and helps eliminate a suntan. The vitamin C in cucumbers also will help keep the skin well moisturized. Mix two tablespoons of fresh cucumber juice and one tablespoon of lime juice. Add a pinch of turmeric to it. Mix it well and apply it on the affected skin. Leave it for 30 minutes and then wash it off with water.
Sandalwood
Sandalwood is a common ingredient in many beauty products. It can also be used for removing a sun tan due to its skin lightening and anti-aging properties. So, it cleanses your skin and helps you maintain a glowing complexion.
Mix equal amounts of sandalwood powder and pure turmeric powder. Add some rose water to make a thick paste. Apply the paste on the affected areas and leave it on for 30 minutes or until it dries. Wash it off using cold water. Do this twice a week.
Oatmeal Powder
Oatmeal has skin-soothing properties and also works as a wonderful exfoliant to cleanse the pores. Thus, oatmeal powder can be used in a couple of ways to reduce a sun tan.
Prepare a mixture of oatmeal powder and buttermilk. Rub it onto the tanned areas. The oats will help exfoliate the skin, and the buttermilk will soothe the skin. You can also make a paste with oatmeal powder, ground almonds, ground dried orange peel, and milk. Apply the paste on the affected areas and leave it on for 30 minutes. Then wash it off with cold water.
[wp_ad_camp_2]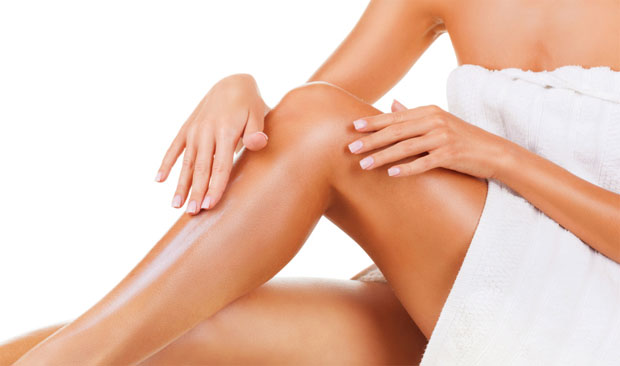 Prevention of Dark Skin
Sunscreen is the best way to make sure your skin will stay as light as you want after trying natural remedies or bleaching creams. Make sure your hand cream has a high SPF (30 or more) to protect your skin from harmful UV radiation. Choosing more comfortable shoes can also help when it comes to your feet. If your shoes are too tight, the friction between your skin and the shoe can lead to rougher, darker skin. If you notice that your skin is rapidly changing to a darker color, the cause may also be connected to fungus infections, diabetes or poor blood circulation, so consult a dermatologist.
[wp_ad_camp_3]
Image courtesy: sorchacubitt.com , iquitsugar.com