Castor oil is extracted out from castor seed (Ricinus Communis). It has another nomenclature "Palma Christi" or "Palm of Christ" for its ability to counter and cure ailments of different kinds.
[wp_ad_camp_1]
Castor oil made its presence felt in the ancient Egypt, Persia, Africa, Greece, and Rome for its medicinal value. The wonderful effect of castor oil on the skin to make it look beautiful and glowing was first noted by the Egyptians.
Everyone knows castor oil's wonderful contribution to a glowing skin but few are aware of it's another wonderful property; its counter effect on unwanted stretch marks. If we could pick one from other numerous cosmetic problems that women face today; it would be stretch marks. Stretch marks remain one of the most common cosmetic problems among women. Most commonly stretch marks could appear anywhere around the body, usually the place where fat concentrates more like breasts, stomach area, armpits, thighs, buttocks, and hips etcetera.
[wp_ad_camp_4]
Certainly, stretch marks could make you feel uncomfortable and self-conscious about your appearance. Rest assured, there is a way out, the inexpensive way out; the castor oil way.
Method One: Blended Oil (Castor Oil with Almond oil)
Directions for Use
Buy a small bottle of castor oil from your local pharmacy. You don't need a big bottle to get rid of your stretch marks. Less is more.
Blend or mix almond oil and castor oil in the ratio of 2:1 tablespoons in a very clean bowl. Care should be allowed to check for a complete blend of the two oils for better results.
Hands should be dry and clean while using this preparation on your body. Dip the three middle fingers of your hand into the concoction and slowly, with a circular motion apply it across the stretch marks, and allow it be absorbed by the skin for at least 10 to 15 minutes.
Continue this twice daily as a routine for nearly two to three weeks. You will observe a noticeable reduction or a complete disappearance of the stretch marks.
[wp_ad_camp_2]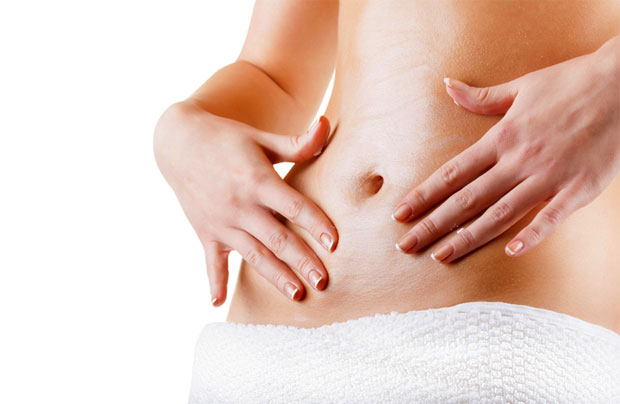 Method Two: Blended Oil: (Castor oil with Coconut Oil)
Directions for Use
Blend or mix equal proportions of castor oil and coconut oil.
The affected areas with stretch mark should be thoroughly applied with this blended oil using three middle fingers of your very dry and clean hand in a circular motion.
The area of application should get warm or heated up by the rubbing. This releases anti-oxidants and skin hydrators.
The stretched skin becomes soft during this rubbing.
Coconut oil known for its moisturizing affect increases the moisture level of the stretched skin. This prepares the skin for getting treated against stretch marks by castor oil.
Within four to five weeks of using this blended oil, your skin will start to show visible change in the stretch marks.
Method Three: Blended Oil (Castor Oil with Aloe Vera)
Aloe Vera in itself has the capability of reducing stretch marks. The efficacy is doubled when it is blended or mixed with castor oil.
Directions for Use
Crush Aloe Vera to pulp.
Beat the pulp until a flowing consistency is maintained.
Mix castor oil to the pulp and heat the mixture.
Apply the oil to the affected area with stretch marks using the same procedure described before. Care should be taken to apply the mixture while it is hot (as tolerated by your skin).
Castor oil in combination with Aloe Vera works on the epidermis. Aloe Vera's vitamin E seeps to the dermis, Ricinoleic acid in castor oil reduces the inflammation in dermis, and the combination of Ricinoleic acid and Vitamin E spark the repair process of the damaged collagen fibers of the dermis, thus reducing the appearance of stretch marks.
It is definitely an annoyance to have unwanted stretch marks, but as aging is inevitable, so are stretch marks. Don't you worry! Grab a bottle of castor oil and get down to the business straight off.
Out of the three methods depicted above, use one that is your favorite combination to get a better result for your stretch mark problem.
Do you have any other out of the box exclusive remedy for stretch marks? Do share with us.
[wp_ad_camp_3]
Image courtesy: blogellas.com , rushprnews.com , drdiktaban.com