A leading cause of illness and death in the tropics and subtropics. More than one-third of population living in areas at risk for transmission. 100 million is the number of people infected yearly. Dengue has emerged as a worldwide problem only since the 1950s.
[wp_ad_camp_1]
It is a disease caused by a family of viruses that are transmitted by mosquitoes. Dengue (pronounced DENgee) fever is a painful, debilitating mosquito-borne disease caused by any one of four closely related dengue viruses. These viruses are related to the viruses that cause West Nile infection and yellow fever.
What is dengue fever?
Dengue fever is a disease caused by a family of viruses and transmitted by mosquitoes. It is an acute illness of sudden onset that usually follows a benign course with symptoms such as headache, fever, exhaustion, severe muscle and joint pain, swollen glands, and rash. The presence (the "dengue triad") of fever, rash, and headache (and other pains) is particularly characteristic of dengue. Other signs of dengue fever include bleeding gums, severe pain behind the eyes, and red palms and soles.
[wp_ad_camp_4]
Dengue can affect anyone but tends to be more severe in people with compromised immune systems. Because it is caused by one of four serotypes of virus, it is possible to get dengue fever multiple times. However, an attack of dengue produces immunity for a lifetime to that particular serotype to which the patient was exposed.
Dengue goes by other names, including "breakbone" or "dandy fever." Victims of dengue often have contortions due to the intense joint and muscle pain, hence the name "breakbone fever." Slaves in the West Indies who contracted dengue were said to have dandy fever because of their postures and gait.
Symptoms of Dengue Fever
Symptoms, which usually begin 4 to 6 days after infection and last for up to 10 days, may include sudden high fever, severe headaches, pain behind the eyes, severe joint and muscle pain, nausea, vomiting, skin rash, which appears three to four days after the onset of fever, and mild bleeding (such a nose bleed, bleeding gums, or easy bruising).
Sometimes symptoms are mild and can be mistaken for those of the flu or another viral infection. Younger children and people who have never had the infection before tend to have milder cases than older children and adults. However, serious problems can develop. These include dengue hemorrhagic fever, a rare complication characterized by high fever, damage to lymph and blood vessels, bleeding from the nose and gums, enlargement of the liver, and failure of the circulatory system. The symptoms may progress to massive bleeding, shock, and death. This is called dengue shock syndrome (DSS).
[wp_ad_camp_2]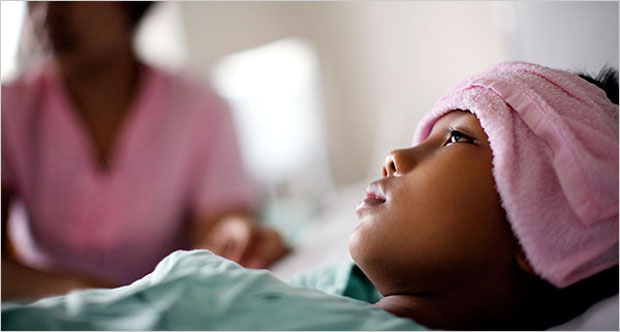 Diagnosing Dengue Fever
Doctors can diagnose dengue infection with a blood test to check for the virus or antibodies to it. If you become sick after traveling to a tropical area, let your doctor know. This will allow your doctor to evaluate the possibility that your symptoms were caused by a dengue infection.
What is dengue hemorrhagic fever?
Dengue hemorrhagic fever (DHF) is a specific syndrome that tends to affect children under 10 years of age. It causes abdominal pain, hemorrhage (bleeding), and circulatory collapse (shock). DHF is also called Philippine, Thai, or Southeast Asian hemorrhagic fever and dengue shock syndrome. DHF starts abruptly with high continuous fever and headache.
In DHF, there is bleeding with easy bruising, blood spots in the skin (petechiae), spitting up blood (hematemesis), blood in the stool (melena), bleeding gums, and nosebleeds (epistaxis). Pneumonia is common, and inflammation of the heart (myocarditis) may be present.
The mortality (death) rate with DHF is significant. Most deaths occur in children. Infants under a year of age are especially at risk of dying from DHF.
Treatment for Dengue Fever
There is no specific medicine to treat dengue infection. If you think you may have dengue fever, you should use pain relievers with acetaminophen and avoid medicines with aspirin, which could worsen bleeding. You should also rest, drink plenty of fluids, and see your doctor. If you start to feel worse in the first 24 hours after your fever goes down, you should get to a hospital immediately to be checked for complications.
Preventing Dengue Fever
There is no vaccine to prevent dengue fever. The best way to prevent the disease is to prevent bites by infected mosquitoes, particularly if you are living in or traveling to a tropical area. This involves protecting yourself and making efforts to keep the mosquito population down.
To protect yourself:
Stay away from heavily populated residential areas, if possible.
Use mosquito repellents, even indoors.
When outdoors, wear long-sleeved shirts and long pants tucked into socks.
When indoors, use air conditioning if available.
Make sure window and door screens are secure and free of holes. If sleeping areas are not screened or air conditioned, use mosquito nets.
If you have symptoms of dengue, speak to your doctor.
To reduce the mosquito population, get rid of places where mosquitoes can breed. These include old tires, cans, or flower pots that collect rain. Regularly change the water in outdoor bird baths and pets' water dishes.
Home Remedies for Dengue
Take 2 pieces of raw papaya leaves, clean them. Pound and squeeze out the juice through filter cloth. Two tablespoon per serving once a day.
Do not boil or cook or rinse the papaya leaves with hot water, it will lose its strength. Take only the leafy part and no stem or sap. It is bitter in taste, just swallow it.
Neem oil is a great purifying agent and should be applied on a damp warm cloth in dosages of between 15 to 60 grams 2-3 times daily. It should be noted that usage should be restricted in both males and females seeking pregnancy.
The leaves of coriander can be taken in the form of a tonic to reduce the fevers in dengue.
Fruits rich in vitamin C like amla (embellica officinalis) are advised as vitamin C helps in better absorption of iron.
Chyavanprash can be taken as it is an immunobooster, blood purifier, and increases blood count.
Boiled basil leaves (tulsi) served in a warm drink like tea can help prevent an outbreak of dengue. This bitter and pungent herb has all the properties that strengthen the internal system against fever.
Fenugreek leaves are taken as herbal tea in order to reduce fevers. This drink acts as a soothing and cleansing agent for the human body.
Orange juice helps with digestion, increased urinary output, promotes antibodies for faster healing and recovery.
The most important thing to remember here is that when infected, early recognition and prompt supportive treatment can substantially lower the risk of developing severe disease. If possible, don't take that deadly bite.
[wp_ad_camp_3]
Image courtesy: cell.com , nytimes.com ,