Known for its various benefits and uses, castor oil is a vegetable oil squeezed out from the seeds of castor plant found in Africa and India. It is an antioxidant oil used by folk healers around the world to heal a number of ailments.
[wp_ad_camp_1]
Castor oil contains vitamin E, minerals, proteins, antibacterial and anti-fungicidal properties. Scientists attribute its healing benefits to its unusual chemical composition, which consists of a triglyceride of fatty acids with ricinoleic acid of up to 90 percent. In addition to healing benefits, castor oil also contains anti-inflammatory properties, all of which are related to healthy hair growth. You can say goodbye to your hair problems with the help of castor oil.
[wp_ad_camp_4]
Fights hair loss
Various factors like hairstyling, infection, dandruff, etc., lead to hair loss. Just take some castor oil, and massage it to your scalp and roots. Wash it off, after leaving it for an hour or two. Ricinoleic acid that is present in castor oil helps to protect your hair and stimulates circulation of nutrient rich blood to your scalp.
Stimulates hair growth
If you want to grow your hair within a few weeks, then no other oil can be as good as castor oil. When you use this oil regularly on your scalp, it boosts blood circulation to the follicles, leading to hair growth. It even supplies omega-6 essential fatty acids that is needed to grow healthy hair. Apply the oil and leave it overnight, covered with a cap for deep penetration. Wash it off the next day.
Treats scalp infection
Scalp infection can cause major hair problems like bald patches, itchy scalp, etc. This can also stop hair growth. With castor oil's anti-fungal, antibacterial and antiviral properties, you can fight pathogens and micro-organism causing these problems. Apply it on regular basis to make your scalp infection-free.
[wp_ad_camp_2]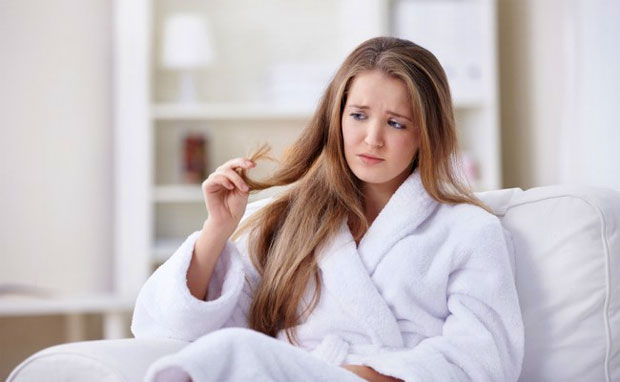 Reduces split ends and hair breakage
Spilt ends and hair breakage are a sign of unhealthy hair. Since castor oil is filled with essential nutrients like vitamin E, amino acids, and omega-6 fatty acids, it can help you to put a stop to split ends and breakage. The oil penetrates deep into your scalp and smoothens out rough hair cuticles. So, spread the oil evenly on your hair and wash it after few hours. Since, castor oil is very sticky, you can also mix it with lighter oils like olive oil or jojoba for easier application.
Conditions and moisturizes hair
Natural omega-9 acids present in this oil helps to lock the moisture in your hair and scalp. So, it is a great conditioner for your hair. You should apply castor oil in your hair at least 15 minutes before using a shampoo. This will help to make your hair smooth and soft. You may apply one or two drops of castor oil in your hair each night as a part of your daily hair conditioning routine.
Gets rid of dry scalp
The omega-9 fatty acids that are present in castor oil will nourish your hair and prevent dry scalp. Before washing, apply the oil on the affected area and let it stand for few minutes. You will see the difference after a few washes.
Makes hair dark and shiny
Almost everyone wants black and lustrous hair. But due to many reasons such as weather, chemical treatments and all, hair losses its shine. Castor oil can help to increase the shine in your hair. It has the ability to coat your hair shaft, and seal the moisture in. This leaves your hair with shinier and silkier surface. You can mix a small quantity of hair oil with your hair serum or mousse, and apply it evenly on your hair. You can also heat up some castor oil and apply it on your hair. Then wrap your hair in a towel. After a few washes you can feel your locks getting shinier.
Provides thickness to hair
Castor oil not only prevents hair damage, but also helps in providing thickness to your beautiful hair. Regular use of this oil promotes thicker hair growth on your scalp. The essential nutrients and omega 6 and 9 acids in this oil are very good to enhance the quality of your hair.
Method of Use
Simply take some oil on vessel kept it in hot water then apply on your hair from roots to tips in the same way apply your regular oil and massage well. Make sure not to use too much oil because it has thicker density and would be difficult to wash out. Let the oil sit in your hair for one hour before rinsing with tepid water and shampoo. Alternatively, apply the oil before going to bed and leave overnight. Wash the hair next morning. To keep the oil staining your bed linen cover your head with a towel or any clean, cotton cloth. You can mix castor oil with any other oils such as coconut oil, almond oil, olive oil, etc., for added effect.
[wp_ad_camp_3]
Image courtesy: chaiacupoflife.com , dailyweighin.com