As it turns out, most of the times, love-making is spontaneous and not always something that is planned. Also, if you are looking for a quickie, it is hard to plan anything fancy other than who gets the clothes off first.
But if you want to stimulate your man and make him on even before he gets into bed, this is exactly the article you need to read. EHC brings together some information to let you know how to keep your man all high and sensual even when you just walk around him. Let love sparkle around you.
To make on the sensual tension in your man, you need to feel good in your attire. People generally do not appreciate feeling awkward and uncomfortable in your dress. Read on to make him on while cranking up the heat.
Transparent tops
The art of pleasing men is not about revealing all, but knowing how to cover it all and yet make a man feel like he's seen it all. The next time you are dressing for bed, wear something that will reveal all without showing anything. A thin tee or a plain white see-through top can be such a romantic on for any guy. You may go a bit further by letting your breast end stick out and enhance your beautiful curves.
Soft clothes
Remember the first time your man touched the skin on your back or on your legs? The soft, supple feel of a woman's body is an instant romantic on for any man. Remind him of the texture of your skin without really letting his hands get under your shirt. Wear nightwear that is made of soft fabrics like satin or silk. Silk, suede, cashmere, faux fur… unlike your usual cotton duds, these materials feel amazing against your skin and beg to be caressed.
Sexy lingerie
You may pick up some really sensual lingerie in bold colors, like red or black. Men can't take their eyes off spicy red lingerie dancing in front of them. Bold lacy or satiny lingerie is an instant romantic on for any man, just as long as you know how to bend and pout when he is watching you. A barely-there lace bikini or thong in noir is also an essential. Now you will never be at a loss for what to wear under that little black dress, or be shy about showing it out.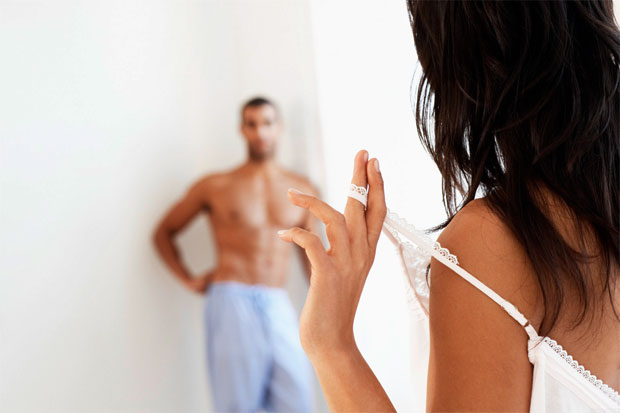 Loose draped clothes
A short soft robe that is loosely draped around your body is one of the sensual things to wear to bed. You don't reveal much unless you bend low or lift your knee. The occasional little sneak peeks will definitely distract your man even if he is hooked to the television on game night.
Costumes
There is nothing spicier than playing out a secret fantasy. Dress up like his favorite character and call out from bed. He is going to fling his clothes and go "bang bang" even before you explain what is on your mind.
Eyeliner
Slightly smudged black eyeliner means smoldering love god look. Put it on. Look in the mirror. And think of doing something very, very bad tonight.
Apply lipstick in front of him
This one move few men can resist. After all, you are lavishing attention on your luscious lips and it is an instant romantic on for any men.
Try his clothes on
There is something about a woman lounging around in a man's white work shirt. Is it the stark contrast of a crisp, starched collar against bare skin? The way that, when open except for one strategically located button, the material skims thighs and covers the bare minimum of what needs covering and no more.
Being comfortable
Whatever may be the case, you should feel comfortable to have a good time. Along with planning for the attire to heat him up, take care to set up the environment too, with candle lights and soft music. You are on the way to have the time of your life. All the best.
Image courtesy: taobaocdn.com , huffpost.com